turkce
links to original Turkish article
(Sabah Newspaper, 31 March 2014)
//ed. note: Yezidis are a Kurdish people whose religion is
linked to Zoraastrianism.//
Official symbol of the city of Batman
There are only 16 citizens' names on the voter list
in the village of Yolveren, which is linked to the
Batman city center. In the 1990's many of its residents
emigrated to Germany.
In the village, where only two people now live, just
four of the registered voters cast their votes. Eight of
the ten Yezidi citizens with roots in Yolveren village
who came from Hannover, Germany, to support the
Yezidi candidate for village chief, did not find their
names on the voting list.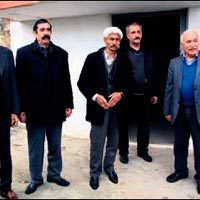 Village Chief Alcu took on all comers.
Supporters came in from Germany!
After four of the sixteen registered voters began casting
their votes, within 15 minutes another 5 persons on duty
at the polling place cast their votes there as well.
Mehmet Alcu, the only candidate for the post of village
chief, was elected for the third time and expressed his
delight over his triumph. As for the visitors from Germany,
they said that "we came to support our village chief who
has remained loyal to the village for years." Village chief
Alcu added that "I'm their only representative."
Batman province.