türkçe
links to original Turkish article
(Milliyet Newspaper, 31 January 2017)
Now on the Celestial Walk of Fame.
A well-known French astronomer, Jean-Claude Merlin, has named
an asteroid he discovered in 2009 after Turkish pop singer Sezen Aksu (!).
Merlin found the new asteroid, which is 450 million kilometers from the
sun, while working with a telescope in Arizona.
Merlin explained the naming of the asteroid as follows: "I wanted to
name one of my discoveries after Sezen Aksu to honor her. So asteroid
266854's official name is now "Sezen Aksu". Asteroid 26684 Sezenaksu
is more than three times farther from the sun than Earth."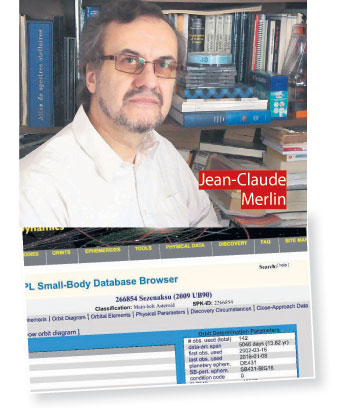 Has a thing for Turkish heavenly bodies.
Merlin said that Aksu, whose official name is Fatma Sezen Yıldırım,
"is a songwriter and producer and her voice has a special emotional tone
to it. She has affected millions of people with her music and besides
Turkish, she has composed songs in Armenian, Greek and Kurdish."
A precedent: he named his X-3251 mannequin 'Elaine'.
----------------------------------------------------------------------------------
türkçe
links to original Turkish article
(Milliyet Newspaper, 31 January 2017)
Orchid bandit Ali Çetin and his forbidden fruit.
In Yozgat, two people who gathered the wild orchid root 'salep'
have been fined 81,826 TL (about 25,000 USD). One of the
suspects, Ali Çetin, said mornfully "I was burned. No one else
should be."
Çetin was caught red-handed gathering the roots last May in
Gülyayla village by officials of the Yozgat office of the Forestry
and Water Affairs Ministry. In accordance with Environmental
Law 2872, paragraphs 9 and 20, a fine of 40,913 TL was levied
on Çetin, who claimed that he didn't know gathering the roots
was illegal. In any event, the father of four lamented that he does
not have the means to pay the fine.
Both Çetin and his nephew were caught and both received the
same fine. Çetin said he is expecting help from the President,
Prime Minister and the Forestry Minister as he is merely a
laborer and has his parent to look after besides his children.
He added that "I've never seen this amount of money in my life.
I can't pay it. Would we have gathered salep roots if we had
known it was illegal? Would we want to pay a 40,000 TL fine
for salep roots that go for 15-20 TL per kilogram? They didn't
even give us a warning!"
Yozgat Forestry chief Cihan Eğilmez, however, was unmoved
and explained that in accordance with paragraph 20 of the
environmental law citizens pulling out salep roots, which are
protected, must be penalized.
Yozgat province