türkçe
links to original Turkish article
(HaberTürk Newspaper, 31 July 2017)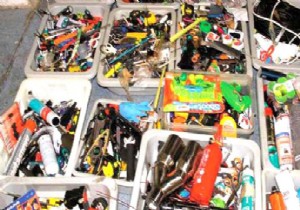 And this is just aisle one...
Security officials at Atatürk Airport in Istanbul encounter an
incredible spectacle when they check the carry-on baggage of
passengers. In the first half of this year officials have confiscated
56,000 items from 28.6 million passengers. The items included
knives and cutting implements, car parts and construction
equipment.
Specifically, security screening officials confiscated 11,795 knives
and cutting implements, 18,229 tool sets containing screwdrivers
and pliers, 2,031 scissors, 940 automobile parts - including an
exhaust pipe (!), and 542 screw and nails.
Well-stocked store in the Atatürk departure lounge.