turkce
links to original Turkish article
(Sabah Newspaper, 30 May 2014)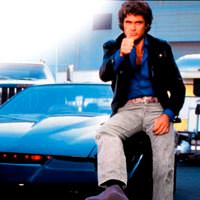 Cool guy, cooler car
'Kitt', the smart, talking black sports car that could
fire guns, seen in the 1980's cult hit series "Knight
Rider" ('Kara Simsek'/'Black Lightning' in Turkey),
has been sold. The 1982 Pontiac Trans Am that the
famous actor David Hasselhoff used as "Michael
Knight" in the series has gone to a new owner for
$150,000.
Hasselhoff decided to sell some personal items at
auction for the Starlight Children's Fund in the U.S.
and 'Kitt' was one of them. Hasselhoff said that the
car was sold in April and he added that "I still can't
believe that "Knight Rider" positively affected so many
people. I sold 'Kitt' to someone in Turkey for $150K.
Hasselhoff did not name 'Kitt''s buyer. The "Knight
Rider" series, on the air from 1980 to 1986, was very
popular in Turkey and some firms here even used it
in their commercials. The show returned to TV in
2008 with its 90 episodes. 'Kitt' started a trend of
car modification throughout the world. The car's stop
lights are mounted on just about all types of automobiles
in Turkey. Various versions of the car have been used
in commercials.