turkce
links to original Turkish article
(Sabah Newspaper, 30 September 2014)
Jousting on the subway? Seems he lost.
A passenger was injured on a subway car that jumped off the
rails in the Istanbul Metro. The accident occurred yesterday
morning on the Seyrantepe-Sanayi Mahallesi metro extension
line where tunnel work is being done.
For some unknown reason the second car on the train jumped
off the tracks as the train was en route to Seyrantepe. The
car hit some iron bars that were stacked for use in the related
tunnel work and stopped shortly afterwards. One of the iron
bars penetrated the car and became embedded in the hip of
passenger Fatih Coban.
The shocked train passengers walked through the tunnel to
the Sanayi Mahallesi station and exited to the street.
Firefighters and rescue teams cut the ends of the iron bar
that penetrated Coban's hip and brought him to Okmeydani
Training and Research Hospital for treatment. Coban said
later that "I saw the iron bar but I couldn't get out of the
way."
==========================================
turkce
links to related Turkish article
Posta Newspaper, 27 September 2014)
Better grab a fire-proof parachute as you flee the flames.
In Cerkezkoy, Tekirdag province, there are so-called
fire escapes but the shortness of the escapes is cause for
concern, since they stop 4 meters (12 feet) short of the
ground. It seems that no one is concerned about how
anyone would reach the ground in case of a fire.
Cerkezkoy is Tekirdag's easternmost district.
==========================================
turkce
links to original Turkish article
(Sabah Newspaper, 30 September 2014)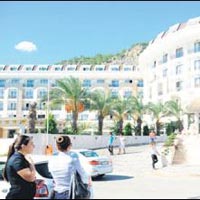 Everybody out of the pool!
When acid was mixed with water to clean a hotel pool in
Kemer, Antalya, 18 people were poisoned. Chemicals
were being used to clean the hotel pool at a 5-star hotel
in the Beldibi neighborhood but instead of chlorine, acid
was mistakenly introduced into the water. The resulting
toxic cloud poisoned the 18 tourists and hotel workers.
All those affected were taken to Kemer State Hospital
for treatment and 5 were released soon afterwards.
Treatment for the other 13 victims lasted all day. Gendarmerie
units took security precautions around the hotel and as the
hotel was evacuated. An inquiry has begun.
Kemer district is south of Antalya city.