türkçe
links to original Turkish article
(HaberTürk Newspaper, 10 November 2017)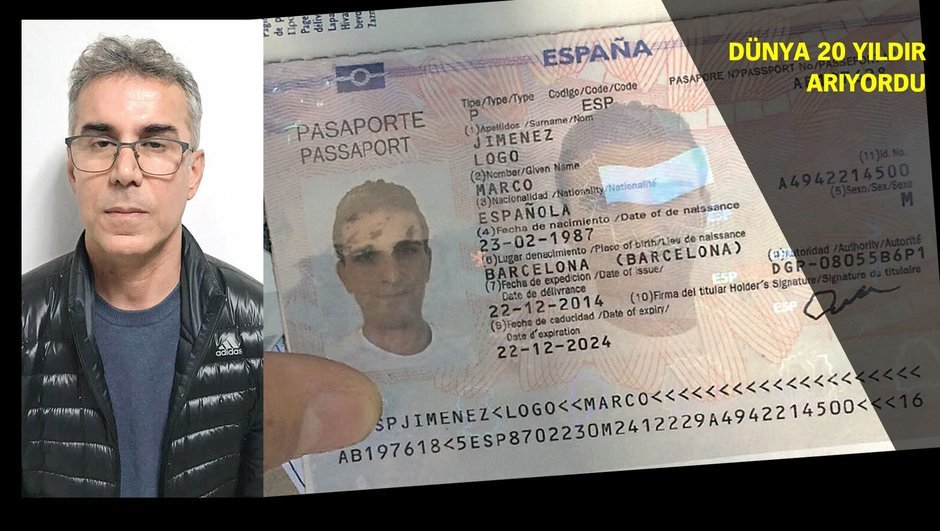 "My name Marco Jimenez" (apologies to the late Bill Dana).
Istanbul police, based on a tip from the Canadian government, took two
people into custody in Fatih who sent immigrants to Canada with fake
documents, passports and residency permits. The suspects turned out to
be Iranian Reza Lame, nicknamed "The Ghost Baron" who has been
sought by police for 20 years, and Mehdi Golichobeh.
Canadian officials determined that the fake documents presented to them
by immigrants had come from a cargo company in Fatih. Istanbul
police then raided the company in Fatih's Haseki Sultan neighborhood.
In the raid, police seized a passport in the name of Spaniard "Marco
Jimenez Logo" (!). Then, in order to catch the suspects police placed
one of their own in the cargo company, who called the suspects and told
them that "there's a signature missing. Please come and sign."
Reza Lame and Mehdi Golichobeh came to the cargo company and
were taken into custody. Three Spanish passports and a hologram
were taken from the suspects during a search but they refused to give
their residence address. Police found another fake passport with an
Avcılar address on it, called companies in Avcılar that sell bottled
water and identified Lame's home in this way.
Police artist's rendering of Lame and his fake document device.
At Lame's home police found a remarkable device that enabled Lame
to produce the fake documents that allowed him to pass through any
and all customs checkpoints with ease. The going price for one of
Lame's fake passports was $7,000. He was being sought in Turkey,
Canada, Italy and Germany. A month ago in Iran he had the name
'Hamid' removed from his name. In 2013 Lame was taken into
custody for presenting fake documents at Atatürk Airport and in
Bakıköy and Kartaltepe. In each of those incidents, though, Lame
used fake IDs to avoid arrest. Lame has also been linked to a deadly
human trafficking incident in Germany.
Fatih district of Istanbul.