türkçe
links to original Turkish article
(Hürriyet Newspaper, 17 February 2016)
Just try to tell him he can't be a cop!
The high court in Turkey has ruled in favor of a M.A. in his
10-year struggle to overturn a rule that bars bald men from being
policemen (!). The court voided the paragraph in the Security
Organization Heath Requirements Regulations that considered
"male baldness" as an obstacle to professional police training.
The Ministry of the Interior has accepted the court's decision and
invited M.A. to come on duty. He will start working on Monday.
M.A. had passed the police candidacy exam in 2006 but was barred
from duty because of his baldness. He filed his lawsuit in 2007.
In this same vein, a woman who graduated from the police academy
but who was born without a uterus, has filed suit to be allowed to
serve. Her lawyer Özgür Salman asserted that "there should be no
relationship between a person who is physically able to do the job
but who cannot give birth. We are faced with a situation that
violates respect for women's rights contained in the Constitution."
----------------------------------------------------------------------------
türkçe
links to original Turkish article
(HaberTürk Newspaper, 18 February 2016)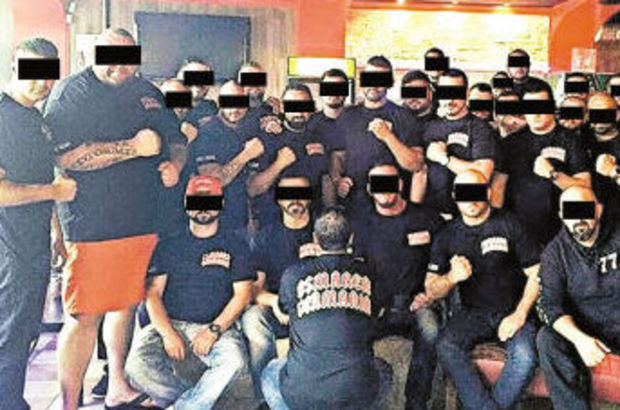 Sultans of Wiener Schnitzel.
In Germany, police are closely following the Osmanen Germania
BoxClub (Ottoman Boxing Club of Germany), which is made up
mostly of Turks and rapidly gaining membership. The group wears
black jackets with their club name on them, like the Hells Angels,
and have put a rap video on the internet.
The group's video appeared 4 months ago on the internet and contains
lyrics like "we'll seize the entire country.", "we're ready to shed our
blood to the last drop." and "we're fearless warriors." German police
are worried that the members of the Ottoman Boxing Club are
preparing to fight with the Hells Angels and Banditos.
In a report submitted to the North Rhine-Westphalia State Interior
Department, these three groups and the Brother MC group were
characterized as "threats" and the department declared that "we will
show no tolerance toward these kinds of groups."
North Rhine-Westphalia State