türkçe
links to original Turkish article
(HaberTürk Newspaper, 22 February 2016)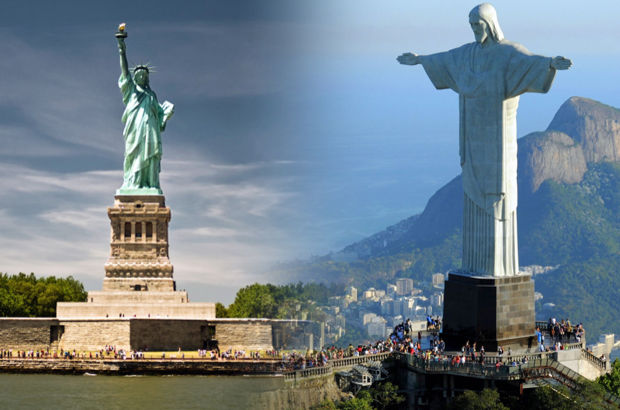 Great idea! Make sure ISIS hears about the giant Virgin Mary
statue...
Zeynel Bakıcı, the mayor of Selçuk district of Izmir province, has
stated that work has begun to build a giant statue of the Virgin
Mary and set it on Bülbül Mountain. Explaining the rationale for
this, Mayor Bakıcı said that "2.5 million people visit the home of
the Virgin Mary in Selçuk each year. But 5 million visit Fatima in
Portugal, where the Virgin Mary is said to have appeared to three
shepherd children on 13 May 1917."
2.5 million faith tourists behind Fatima?! Build a giant statue!
Continuing, the mayor stated that "we have to give importance to
publicity and marketing, both big factors in faith tourism. So we've
rolled up our sleeves to build a giant statue of the Virgin Mary here.
It will be as magnificent as the Statue of Liberty in America and the
statue of Jesus in Rio de Janeiro. Our discussions with a number of
investors are continuing. Right now we think that the statue will be
erected on the slopes of Bülbül Mountain."
The small Byzantine-era church on Bülbül Mountain is known today
as the Virgin Mary's home, where she died. Her body is thought to
be buried somewhere on the mountain. St. John is also said to have
lived here. Each year millions of Christians come to Bülbül Mountain
on a pilgrimage and to seek health cures and make wishes.
Selçuk district is Izmir's southernmost.
------------------------------------------------------------------------------
türkçe
links to original Turkish article
(Posta Newspaper, 17 February 2016)
Thirty years ago a statue of a robot was placed in a park in Manisa
to attract the attention of children. Over time, though, the park fell
into disrepair and no children play there anymore. A local resident
has taken to using the robot statue as one end of a clothesline.
Android's grandfather.
Manisa province