türkçe
links to original Turkish article
(HaberTürk Newspaper, 1 February 2016)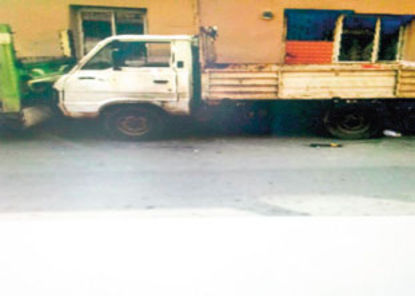 ...in all its reflected glory.
In Konak district of Izmir, a woman named E.K. (55) wanted to
buy potatoes from E.M. (27) and A.Y. (19), who were selling
potatoes from their truck on the street. As E.K. went to pay for the
two kilograms of potatoes she bought, E.M. and A.Y. noticed that
her pocketbook was full of money.
The two potato sellers grabbed E.K.'s pocketbook and, when she
resisted, they dragged her along the ground. Then the suspects
took the hand bag with 400 TL in it and fled in their truck. Police
arrived at the scene and combed through 250 images from security
cameras but at first failed to find a clue.
Suspects captured based on spot-on descriptions.
Police then took a second look at the images and thought that they
noticed the reflection of the suspects' truck in a window caught in
one of the images. The image was less than perfect, but police
were able to detect weld marks on the truck reflected in the window.
The police next examined 120 street-sellers' trucks and found that
E.M. and A.Y.'s truck had the tell-tale weld marks.
The suspects were taken into custody and confessed the crime. E.M.
was put directly into jail and A.Y. was released, pending trial.
Konak district is in the center of Izmir city.