türkçe
links to original Turkish article
(Hürriyet Newspaper, 19 April 2016)
Fickle finger of a thief's fate.
In Beyoğlu, Istanbul, six thieves entered an apartment but one
of them lost a finger while fleeing down the staircase. The incident
occurred early this morning on the top floor of a five-story building
on Keramet Sokak in the Sururi Mehmet Efendi neighborhood.
As the three residents of the flat slept, the thieves collected laptops,
cell phones and a wallet. At this point, home owner Veysel Durmuş
awoke and a scuffle with the thieves ensued. As the thieves scrambled
down the staircase, one of them lost a finger when it got caught in the
handrail. Durmuş, in hot pursuit down the staircase, also injured his
finger on the handrail and went to the hospital for treatment.
When Durmuş returned home from the hospital he explained to
reporters that "I was sleeping when the thieves came in and hearing
their voices I woke up. I ran after them but couldn't catch them. My
finger got caught on the handrail as I ran down." The reporters
responded by saying "a finger was found on the stairway. We thought
it was yours. Perhaps it was one of the thieves'."
Surprised, Durmuş said "you must be kidding." and then looked at
his hands to make sure he still had all his fingers. Police have begun
an investigation into the incident.
---------------------------------------------------------------------------------
türkçe
links to original Turkish article
(HaberTürk Newspaper, 19 April 2016)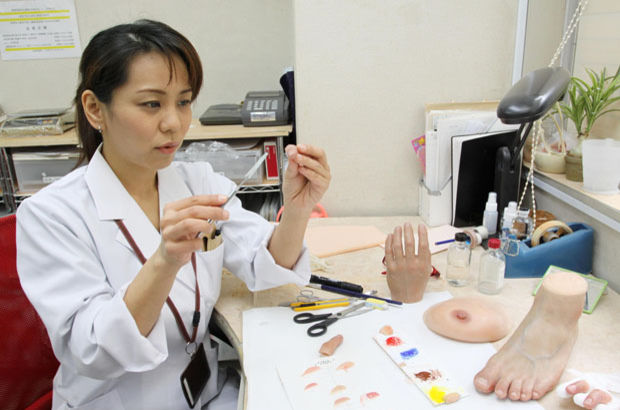 Ladyfinger (with apologies to Goldfinger)
(Not to be confused with these)
Yukako Fukishima (44) has a prosthesis workshop in Tokyo, where
she makes the world's most realistic pinky fingers. Members of the
Yakuza mafia sacrifice their pinkies when they are inducted into the
mob to display their allegiance. However, if afterwards they are thrown
out of the Yakuza or regret their membership, they go through a one-
year rehabilitation process.
Prospective 'patients'.
Because a missing pinky is a sign of Yakuza affiliation, former gang
members turn to Fukushima to get a pinky prosthesis. Fukushima
then takes skin samples from her 'patients' to ensure that the color of
the prosthesis matches the other fingers. She chooses from 20 colors
and more than 1,000 tones to get the prosthesis just right.