türkçe
links to original Turkish article
(HaberTürk Newspaper, 3 December 2017)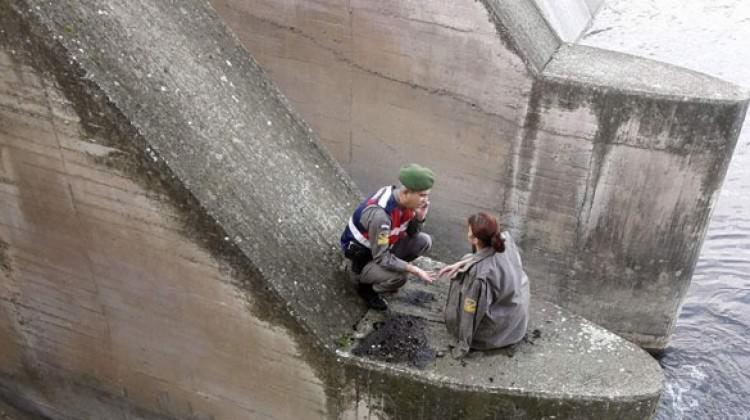 Other duties as assigned...
In Bozdoğan district of Aydın province, Hatice K. (45) went out on one
of the footings of the Akçay Bridge over the Büyük Menderes River
and sat there. Passersby noticed Hatice hanım and alerted the
Gendarmerie, thinking that she was contemplating suicide. A
psychiatrist was summoned when it became evident that Hatice hanim
had been drinking.
The psychiatrist was delayed, though, so it fell to a Gendarmerie soldier
to persuade Hatice hanım over the course of an hour on the bridge
footing to relent. The Gendarmerie General Command issued the
following statement in regard to the incident: "One soul, one life. No
matter what, every life matters. We are very grateful to the soldier
assigned to the Aydın Nazılli District Command who dissuaded a
woman from committing suicide this morning."
Bozdoğan district is in SE Aydin province.
--------------------------------------------------------------------------------
türkçe
links to original Turkish article
(HaberTürk Newspaper, 3 December 2017)
"
I can't find my way home..."
In Fatih, Istanbul, the dilemma faced by Mustafa Doğu (57),
who basement flat's staircase entrance was covered over with
paving stones, has been ameliorated. After Doğu's situation
was reported in the press, municipal authorities came during
the night to remove the paving stones and free up Doğu's
entrance way.
Doğu was forced to spend the night outside at a coffeehouse
after his home's entrance was mistakenly sealed off, but by
morning he was able to return home. He said that the workers
apologized for their mistake. The work crew had paved over
Doğu's entrance staircase at his home on Sırımcılar Sokak in
Fatih early in the morning the day before yesterday, thinking
that it was in violation of city building codes.
"I was lost, but now I'm found..."