türkçe
links to original Turkish article
(Hürriyet Newspaper, 5 December 2017)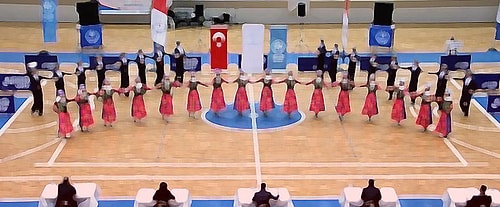 Evidently hungry for goulash, not turkey.
A contingent of the Ankara City Children and Youth Folk Dance
Association went to a festival in Hungary in November. However,
11 of the 16 dancers, whose average age is 20 and who were newly
certified as dancers, have applied for asylum in Hungary (!).
The dance group went to Budapest for the festival, which was held
between 5-10 November. In accordance with the law, the 16 dancers
applied to the Turkish Folklore Dance Federation for permission to
leave the country and then received passports from Turkish security
authorities.
A group from the same association had gone to Bosnia in July and all
of the dancers returned to Turkey. The Federation approved 86
folklore associations nationwide this year for overseas travel but
overlooked the fact that all the members of the contingent who went
to Hungary were certified for the first time!
The Ministry of Sports has opened an investigation of the Federation
and the dancers, filing a criminal complaint, as well. The names of
the 11 dancers who did not return and the 5 who did are currently
being withheld but they are being investigated for any political
links or past crimes. In particular, authorities are researching
any possible connections to the Fethullah Gülen Terror
Organization (FETÖ) or the PKK.
Perhaps not coincidentally, Gülen, right, was spotted with a
colleague in Budapest in recent days.