turkce
links to original Turkish article
(Sabah Newspaper, 8 January 2014)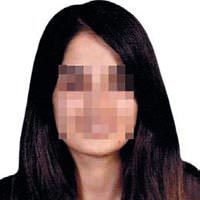 ID blurred, lest future clients be
scared off.
Istanbul University Law Faculty student H.O. was caught
stealing clothes from a famous women's store in Taksim
Square and a case was opened against her. The young lawyer
was sentenced to 5 months in jail but the penalty was
postponed.
According to what Sabah's Special Intelligence Unit has
learned, law student H.O., who is currently doing an
internship, went into the store on Istiklal Boulevard and
caught the security guard's attention with her suspicious
actions.
The young woman was seen trying to remove the inventory
alarm apparatus from clothes in a dressing room. As she left the
store she was stopped and subjected to a search, which
confirmed the security guard's suspicions. Found in her
backpack were pants, a blouse, a sweater and other women's
accessories, all without the inventory alarm apparatuses.
H.O. could not produce a sales receipt and clothes from other
stores were found in her backpack, as well.
Police were called to the store and H.O. was handed over to
them. In her statement, H.O. denied the theft charges and
asserted that the clothes from other stores in her backpack
were in fact her housemate's. At the police station H.O. was
charged with 'major theft', transported to court and released
pending trial. Indictments against her have been filed for
thefts in two different stores.
As the result of her trial, H.O. was, at first, sentenced to two
years in jail but because she has no record, and in view of her
good behavior in court, the sentence was reduced to 5 months
and then postponed. If H.O. does not commit the same crime
for five years the charges will be dropped.