turkce
links to original Turkish article
(Hurriyet Newspaper, 16 January 2014)
A young man attempted suicide on the slopes of
Uludag Mountain in Bursa but got caught on a
tree branch after rolling down about 30 meters.
An AKUT (search & rescue) team that came to
rescue the youth coincidentally found a weapon
and a laptop computer belonging to Lt. Kazim
Topac, who has been missing for 9 months.
During the search, a pair of shoes, two telephones,
3 CD's and some bones, all thought to belong to
Topac, were found, as well. Conjecture is that the
Lieutenant committed suicide.
Topac was serving as the Gendarmerie commander
in Kosk district of Aydin province when he took
leave and went to Bursa where his family lives.
After staying at a hotel for a night Topac disappeared
and hadn't been heard from for 264 days.
=======================================
turkce
links to original Turkish article
(Sabah Newspaper, 15 January 2014)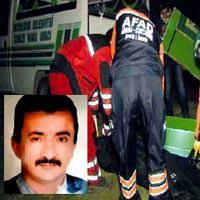 Yilmaz Eser, the married father of two children, operated
a car dealership in Nazilli district of Aydin province. On
31 December, he told his wife he was going to Kosk district
to get a vehicle and at 1700 that evening he called his wife,
Yeliz, to say that he had gotten the car and was heading
home. However, even though\ it was his birthday, Yilmaz
Eser did not return home that evening. When there was no
response from his phone, his family called police.
After looking at surveillance video, police determined that
Eser had been seen talking with 4 or 5 people at around
1400, in front of the Nazilli courthouse. No other trace of
Eser could be found, however.
The day before yesterday, a shepherd who brought his
flock to the Kahvedagi point to graze, in Sirindere village
of Incirliova district, noticed that his sheep were startled
by something in a steep, rocky area. The shepherd thought
the sheep had been spooked by a wild pig so he went down
to the spot in question and found Eser's naked body.
The Gendarmerie came to the scene and identified Eser (49)
by the tattoo of his wife Yeliz's name on his left shoulder.
Eser had been shot and stabbed.