turkce
links to original Turkish article
(Sabah Newspaper, 3 June 2014)
Warning of tragedy, he suffers his own.
In Bursa, 3 year-old Rabia lost her life when her father
forgot to put on the emergency brake and she was run
over by his car. Thirteen days ago the grieving father
had posted a picture of a small girl who had been trapped
in the wheel well of a car and warned other drivers to be
careful about such things. Nevertheless, the same tragedy
happened to him.
According to reports, the incident occurred on Turgut Ozal
avenue in the Fatih Sultan neighborhood of Osmangazi
district, Bursa province. Ekrem Uysal (28), who works in
the construction industry, parked his car in front of his house
after he had washed it. Rabia was playing there and was crushed
by the car as it rolled over her because the emergency brake
was off.
Emergency crews came to the scene and took the young girl
to the Uludag University Medical Faculty where, despite all
efforts, the child could not be saved. Just 13 days ago Uysal
had shared a picture of a child trapped against a tire on his
Facebook page and warned "check around your car before
you start it. Share this picture." Rabia will be buried in Patnos
district of Agri province.
Bursa province
============================================
turkce
links to original Turkish article
(Sabah Newspaper, 3 June 2014)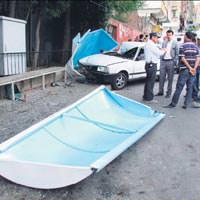 Bus stop target of emergency brakeless car.
Kalender Ulutop noticed that his trunk was open as he was
driving along Ozdemirbey avenue in Gaziantep so he stopped
his car to shut the trunk. However, because Ulutop hadn't
put the emergency brake on the car rolled down a 400 meter
slope and crashed into a bus stop where citizens were waiting.
There, Fatma Idris (25) who had escaped the civil war in
Syria, was killed and three other people were injured.
Gaziantep province on the Syrian border
.