turkce
links to original Turkish article
(Sabah Newspaper, 27 June 2014)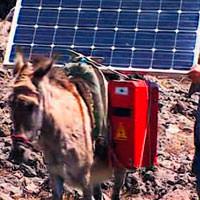 Donkey-borne appropriate technology.
Farmers in Bergama, Izmir province, have placed solar
panels on the back of a donkey to acquire electricity.
The news has become a topic for many international news
organizations, chief among them BBC.
According to BBC's website, the farmers noted that they
traverse long distances and have trouble finding an electrical
source so they came up with a new idea to link to the
internet. The entrepreneurial Izmir farmers work in their
fields all day long and derive electricity for their computers
from the solar panels on their donkeys' backs.
The panels produce an average of 5 to 7 kilowatts of
electricity and because there is so much sunshine in Turkey
the energy potential is great. With such creative projects as
this entrepreneurs are making a contribution to energy
transformation in Turkey.
Bergama district is in northern Izmir.
=========================================
turkce
links to related Turkish article
(Sabah Newspaper, 27 June 2014)
"It was a whopper!"
A meteor seen by security cameras located at
the TUBITAK (Turkish Scientific Organization)
campus in Saklikent, Antalya province, appears
to have landed in Nasuhoglu village of Sandikli
district in Afyonkarahisar province.
Huseyin Seyman of Nasuhoglu village stated
that "at first I thought the light in the sky was a
star and then I thought it was the space shuttle.
It fell really fast and there was a light where it
landed. I was so frightened I didn't know what
to do and I started to make my 'Kelime-i Sehadet'
(last confession). I don't remember if I heard any
noise. The light lasted 3-5 seconds and lit up this
place."
Sandikli is in southwestern Afyonkarahisar.