turkce
links to original Turkish article
(Sabah Newspaper, 3 June 2014)
Butcher Fidan packs swan meat.
In England, a Turk named Hasan Fidan (46) has been
fined for cutting and eating a Queen's swan. Last March
Fidan was taken into custody for stealing and killing a swan
in Bennett's Lake, in the Kent region. A month ago
Fidan was brought before the Sevenoaks Royal Court
and hit with a fine of 215 pounds sterling.
The incident has been widely covered in the English
press and Fidan had this to say for himself: "it was just
an ordinary bird as far as I was concerned. I didn't know
the Queen owned swans. I didn't realize I had done anything
wrong. I wondered how it would taste and it tasted good.
I put the leftovers in the freezer."
A bystander had photographed Fidan cutting up the swan
and putting the parts in his backpack.
=============================================
turkce
links to original Turkish article
(Sabah Newspaper, 4 June 2014)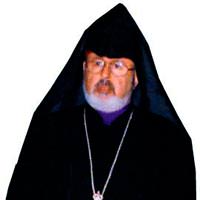 Hoodwinked!
Aram Atesyan, the general representative of the Armenian
Partriarchate, participated in a Ramazan dinner arranged by
Prime Minister Recep Tayyip Erdogan on 25 July 2013.
Atesyan discussed the return of the Sansaryan Han at
Kumkapi, Istanbul, to the Armenian Patriarchate that
evening with Erdogan and got his promise of any help
that he might need on the issue.
The exchange appeared in the press and about 3 or 4 days
later a person identifying himself as the National Real Estate
Inspector for the Office of the Prime Minister called the
patriarchate and asked for an appointment with Atesyan.
The suspect had Atesyan sign the 'required' documents, on
the letterhead of the Prime Minister's Office, for the return
of the Sansaryan Han, and took 6,000 TL from Atesyan as
the fee for the registration expenses. Later on when Atesyan
called the Prime Minister's Office he realized that he had been
duped.
In short order, Kemal Tayfun N., who has a record of having
committed nine crimes, was apprehended and a case has been
opened against him carrying a 7-year jail sentence. It has
been determined that the telephone and camera records of the
day of the incident have been erased.