türkçe
links to original Turkish article
(Posta Newspaper, 12 August 2017)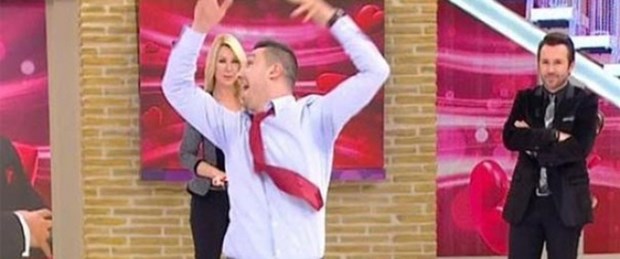 Mustafa B. tantalizing prospective brides.
A pickpocket stole the cellphone of a woman named
B.H.B. who was walking on the sidewalk in Başakşehir,
Istanbul. B.H.B. filed a complaint with police, who determined
that the suspect, Mustafa B., was living at an house in the
Yüzyıl neighborhood of Bağcılar district.
Here, in a more reflective, solitary moment.
Mustafa B. was arrested and a search of his home yielded
B.H.B.'s cellphone. It turned out that Mustafa B. had appeared
on the match-making show "Evleneceksen Gel" (If You Want
to Get Married, Come) as a groom candidate and even earned
some notoriety for the 'Apache' dance he did on the show (!).