turkce
links to original Turkish article
(Sabah Newspaper, 28 November 2014)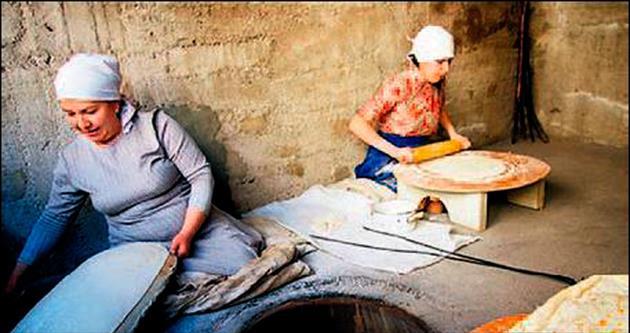 Praise the Lord (or Allah) and Pass the Ammunition
At UNESCO's ninth intergovernmental meeting in Paris, new
cultural treasures for addition to the world heritage list were
put forth. The Armenian delegation came prepared and made
a presentation for the inclusion of 'lavas' (flat bread) to the
"intangible cultural heritage list" in the name of Armenia.
Susequently, a decision was taken to characterize 'lavas',
known in Turkey as 'yufka', as "a type widespread on Armenian
territory." Perennial rival Azerba'jan, however, quickly joined
the fray, asserting that 'lavas' is a cultural item shared by many
countries in the region, including itself and Turkey.
At next year's conference the delegation from the Azerbaijan
Culture and Tourism Ministry will make a presentation on the
matter, entitled declaring that "lavas bread is a heritage food
throughout the region." It is clear that until then the issue will
be further enflamed. Nevertheless, for the time being, 'lavas'
will remain on the cultural heritage list as "Armenian bread".
//ed. note: not that we want to dampen the combatants' ardor,
but according to Redhouse, 'lavas' is a Persian word.//
The art of 'ebru' (marbleizing paper with paint) was added to
the intangible cultural heritage list in Turkey's name at the
meeting. Minister of Culture and Tourism Omer Celik saw
this as yet another Turkish victory at the conference, noting
that "with 'ebru' the number of heritage treasures in Turkey's
name has risen to 12."