turkce
links to original Turkish article.
(Sabah Newspaper, 25 February 2015)
The ill-fated 'Struma'
The Turkish government, for the first time, has organized a
ceremony to honor the 768 people who died on the ship 'Struma',
which was carrying Jewish refugees fleeing the Nazis and
which was sunk by a Soviet submarine in international waters
off Sile, Istanbul, on 24 February 1942.
The ceremony was held at the Sepetciler Mansion at
Sarayburnu (near Topkapi Palace) and was attended by Culture
and Tourism Minister Omer Celik, Istanbul Governor Vasip
Sahin, Rabbi Isak Haleva and Moris Levi, Acting Chairman of
the Turkish Jewish Association.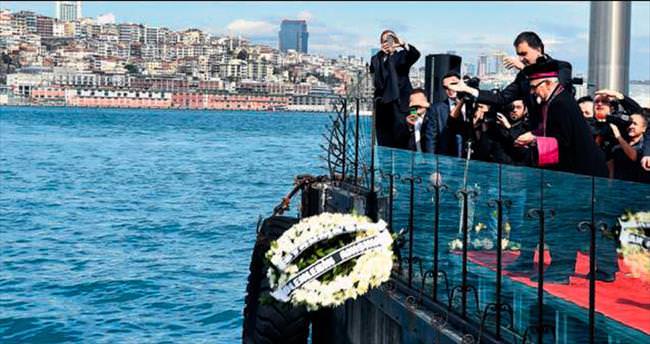 Ceremony held at Sarayburnu, Istanbul, on 24 February 2015.
A wreath was dropped into the sea and prayers were said at
the ceremony. Haleva said "let this ceremony be a message
to the world. Minister Celik stated that "with this remembrance,
we want to ensure that this pain is not forgotten."
The Struma was travelling from Romania to Palestine with the
Jewish refugees but a problem with its motor stranded the ship
at Sarayburnu for 9 weeks. After being towed to the open
waters off Sile, the Struma was hit by a Soviet submarine.
Sile: site of the sinking of the Struma by a Soviet submarine.