türkçe
links to original Turkish article
(Hürriyet Newspaper, 4 January 2016)
Treasure hunting's a lot more glamorous in the movies.
In Denizli's Acıpayam district on Saturday, Recep Tekin (56),
Hasan Tekin (34), Ömer Tekin (29), Gürkan Özmen (28) and Mehmet
Özmen, went to the rocks at Eşeler Yaylası Kazancı location in
Bademli hamlet to dig for treasure. Along with them, they brought
a generator, a drill, shovels and fertilizer, sugar, gunpowder and sulfur
to make explosive material.
First,the treasure hunters drilled into the rocks but as they put their
home-made explosive material into the hole it exploded. Recep Tekin,
the married father of 3, died on the spot and Gürkan Özmen was injured.
The others went for help and rescue teams spent an hour trying to get to
the steep and rocky area. Gürkan Özmen sustained injuries to his face and
chest but was not in life-threatening danger.
Recep Tekin's body was retrieved with difficulty and brought to the morgue
at Pamukkale University Hospital. Another unexploded device was found
at the scene and neutralized by the Gendarmerie's bomb expert. Hasan
Tekin, Mehmet Özmen and Ömer Tekin were taken into custody by the
Gendarmerie.
Acıpayam district is in SE Denizli province.
---------------------------------------------------------------------------------
türkçe
links to original Turkish article
(HaberTürk Newspaper, 4 January 2016)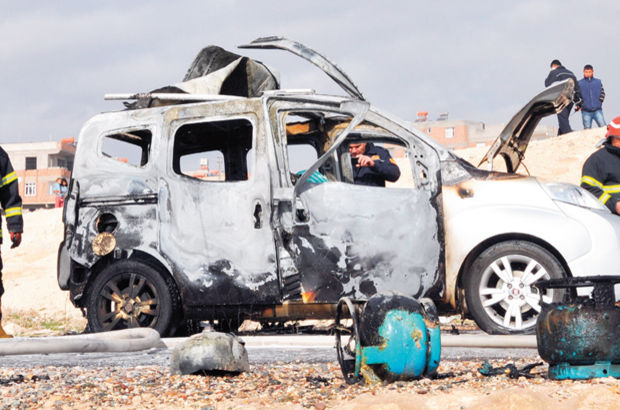 Evidently, he wanted to go out with a bang...
In Gaziantep, Fehmi Özcan (38), locked himself in his car, lit two
picnic gas tanks and then died in the explosion. The incident occurred
in Nizip district and developed as follows: Fehmi Özcan argued with
his wife for some reason and his wife took their children and left home.
Subsequently, Özcan went to a vacant lot in Kıbrıs hamlet and locked
himself in his car. After Özcan lit his cigarette lighter the gas tubes
exploded and the car turned into a ball of fire. Citizens alerted the police
about the situation and it was determined that Özcan's death had been a
gruesome one (!). An investigation into the matter is ongoing.
Nizip district is in eastern Gaziantep province.