türkçe
links to original Turkish article
(Hürriyet Newspaper, 22 January 2016)
"Oh, by the way, I'll be out of town for a while..."
A woman in England named Karen Ulusoy (51) says that her
Turkish husband Evren Ulusoy (40) told her he was going to
the USA for a three-week vacation five years ago but he never
came back.
According to a report in the Sun Newspaper, Karen, the mother
of four children, met Evren when he came to England on a
student visa and they married in 2005. Karen explained that she
even paid for the cost of her husband's permanent visa to stay in
England.
Nevertheless, Karen lamented that "in 2011 he said he was going
to the USA for three weeks. He told me that it was a Turkish custom
for men to get some time away from their wives (!). I was naive and
stupid about it. I'm waiting for him to come back."
The newspaper tracked down Evren in Chicago. He told the paper
that "I never promised her I'd come back (or a rose garden). I'll
start the divorce process right away."
------------------------------------------------------------------------------
türkçe
links to original Turkish article
(HaberTürk Newspaper, 22 January 2015)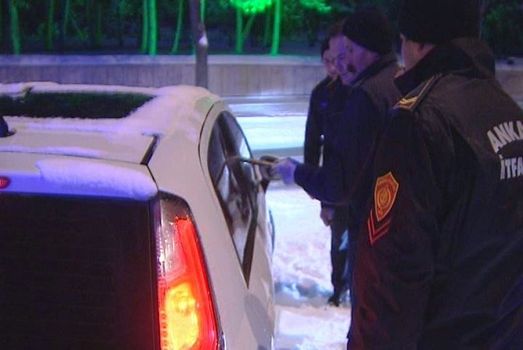 Coffee! - black, and lots of it.
In Ankara, a drunk driver, Bilal Ö., was found passed out behind
the wheel of his running car on Akdeniz Avenue in front of Anıtkabir
(Atatürk's tomb). Police arriving at the scene shook the car from
side to side but could not rouse Bilal.
At this point, firefighters came and broke the car's rear window
and took out Bilal (28) whose promil alcohol reading was 3.19.
Police took away Bilal's license, as this was the third time he
has been caught driving drunk. After 5 years, if Bilal passes a
test after a Psycho-technical Evaluation and Driver Behavior
Development Training, then he can get his license back.
In addition, a case has been filed against Bilal for putting traffic
safety in jeopardy, which could result in a 6-year jail sentence.
According to police, promil values can change based on age, weight
and height. Experts said that Bilal's 3.19 promil rating resulted from
his drinking the equivalent of 1 liter of rakı.
The legal promil limit is 0.50 for a man aged 40 who weighs 70
kilograms. This would result from drinking two beers or 1 double
rakı or 2 glasses of wine or 1 double vodka. Prof. Dr. Sefa Saygılı,
who noted that Bilal had drunk enough to put him in a coma, said
that "when a person passes 1.0 promil they're like a loose mine,
ready to explode."
Atatürk can be heard to rue "These kids today..."