türkçe
links to original Turkish article
(HaberTürk Newspaper, 29 January 2016)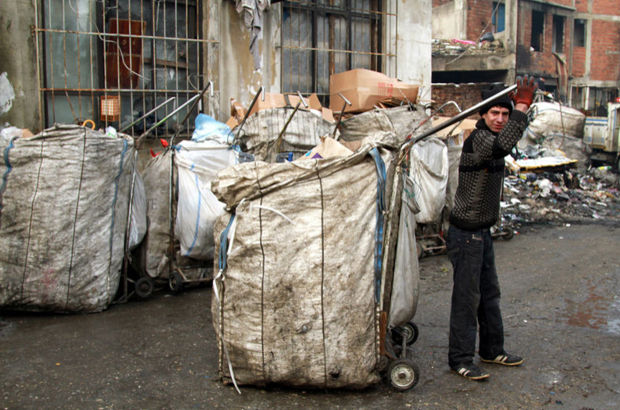 Hardest working folks in Turkey.
Turkey's system for collecting waste paper begins with the
street paper collectors. They are known by the names "kağıtçı"
and "çekçekçi" and roam from street to street, searching through
garbage containers for waste paper.
All told, there are 500,000 çekçekçi's in Turkey, 100,000 of
them in Istanbul. Together with their families, their population
approaches 2 million. The çekçekçi's work 15 hours per day
and collect an average of 200-250 kilograms of paper. They sell
the paper for 15-20 kuruş (3-5 cents) per kilogram.
Çekçekçi's make between 40 and 60 TL per day and most of those
in Istanbul are from Aksaray (district of Istanbul). As for foreigners,
Afghans are foremost. About 10-30 tons of paper are collected in
this way each week. By the time the paper reaches a factory for
recycling the price per kilo reaches 60 kuruş.
Aksaray, Istanbul
------------------------------------------------------------------------------
türkçe
links to original Turkish article
(Hürriyet Newspaper, 30 January 2016)
Send a couple of çekçekçi's over to 'process' the files.
When no space remained to put the files of the 7th Debt Collection
Directorate in the Kocaeli province judicial building, the files were
tied up and left in the corridors. People coming to the bankruptcy
office pass through the heaps of files.
In 2015, 96,209 debt-collection files were processed for unpaid
debts to banks, GSM operators and other firms. It is estimated
that, combined with previous years' files, there are more than 300,000
files currently being processed.
Kocaeli Bar President Nuri Almaz noted that "unfortunately, there's
an increase in debt files every year. Consequently, there's no way to
prevent the increase from continuing."
Kocaeli province. Paperless future a long way off...