türkçe
links to original Turkish article
(HaberTürk Newspaper, 17 May 2016)
Europe? There's no baseball in Europe!
Besides all the migrants and refugees from the Middle East,
Afghanistan and Africa passing through Turkey en route to
Europe, hundreds are coming from the Caribbean islands, too.
They arrive in Istanbul from Punta Cana in the Dominican Republic
and cross the Aegean Sea to Greece in hopes of eventually getting
to Europe.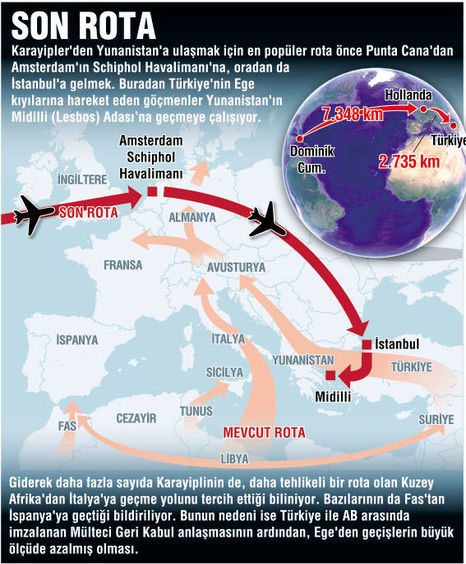 Well, maybe they'll introduce baseball to Europe.
When the Caribbean islanders make it to Greece they say they are
Somalis or Syrians or Afgans, so that they can apply for refugee
status. About 400 reached Greece last year, mostly from the
Dominican Republic. and so far this year about 150 have come.
The islanders first land in Amsterdam from Punta Cana and then
fly on to Istanbul.
Lately, because of the agreement signed between Turkey and the EU
to send back refugees who reach Greece, the Caribbeans have begun
to show a preference for the North African route across the
Mediterranean Sea to Italy