türkçe
links to original Turkish article
(Milliyet Newspaper, 16 September 2016)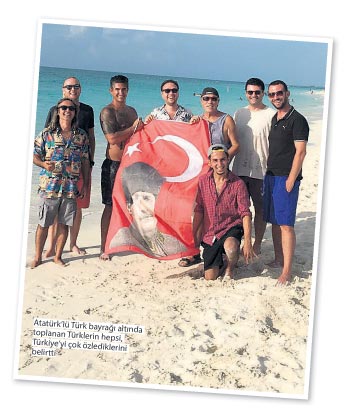 Other than the simit, Efes and ayran shortfall, pretty nice.
There are only 7 Turks living in the Turks & Caicos Islands, a small
nation in the Atlantic Ocean that has the word 'Turk' in its name.
There are 38 islands in the nation's archipelago, 8 of which are
inhabited by its 40,000 citizens.
According to some, the word 'Turk' in the country's name stems from
the top of a cactus plant native to the islands that resembles a Turkish
fez and according to others, Ottoman Turkish pirates came to the island
500 years ago.
In 2009 the nation's Turkish population saw a marked increase when
300 Turks came to work on a construction project. But the project
lapsed and most of the Turks left except for two, one of whom was
computer engineer Yiğit Arol. He opened a kebap restaurant and
said this about the islands: "it's a rather expensive place to live but
very nice. When one of us Turks leaves we have trouble finding a
fourth for 'okey' (Turkish board game). The dice for backgammon
got lost and we waited for 6 months for replacements to come from
Turkey."
1513 Piri Reis map of the Caribbean Sea region.
In addition to Arol the other Turks are nuclear physicist (!) Prof. Dr.
Hayrettin Kılıç; Hüseyin Elçiyörük; hotel manager Fırat Mayıl;
and electronics engineer Birol Kidik, who previously worked in Iraq
and Afganistan. Prof. Dr. Orhan Kural, a professor at Istanbul
Technical University, visited as a tourist and had his picture taken
with the other Turks.
In the 1513 Piri Reis map there are Turkish boats pictured near the
islands, indicating that the Turkish link is longstanding.