türkçe
links to original Turkish article
(HaberTürk Newspaper, 9 September 2016)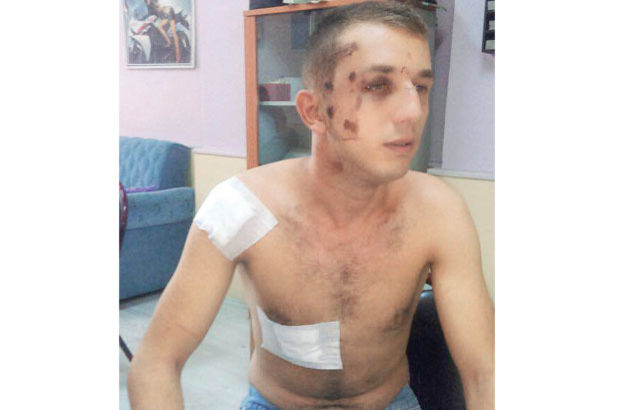 "WTF, over."
Kadir Avcı (21) never thought that he would regret passing
through Ferizli on his way home to Adapazarı. The young man
was taken into custody for a robbery he had nothing to do
with and his nightmare ended with a sound beating.
On the night of 1 September, Avcı was driving his car from Karasu
toward Adapazarı. At 4 in the morning as he passed through Ferizli
district, he noticed that two cars were following him and firing guns
at him. Rather than stop Avcı went to the police station in Ferizli.
There he learned that a hazel nut storehouse had been robbed and he
was suspected of being the thief.
Artist's rendering of Avcı's declaration of innocence.
Police searched Avcı's car and found no evidence of the robbery.
They seized a gun used by A.I., who was in one of the cars chasing
Avcı. The police recorded the incident and turned Avcı over to the
Gendarmerie, who handcuffed Avcı (!) and brought him to the scene
of the theft. The hazel nut storehouse owner and his relatives then
beat Avcı to a pulp.
After Avcı was brought to a hospital for treatment, the real thieves
were apprehended. It turned out that the real robbers' car was the
same color as Avcı's but a different make. Once released Avcı
registered complaints with the public prosecutor about those who
beat him and the Gendarmerie soldiers who handcuffed him and
brought him to the storehouse.
Sakarya province
--------------------------------------------------------------------------
türkçe
links to original Turkish article
(Milliyet Newspaper, 9 September 2016)
The real fawning and fanning child emerges.
Dental technician İsa Sönmez was arrested by police in Izmir on
suspicion of being the boy who fanned (coup mastermind) Fethullah
Gülen years ago. The actual 'fanner' was subsequently caught,
prompting Sönmez to register a complaint with the public prosecutor
about those who framed him for his wrongful arrest.
In images thought to have been taken in the early 1990s, there is a
young boy holding a newspaper and fanning Gülen. Sönmez, a
dental technician at the Bornova Mouth and Tooth Health Center,
was accused by an informer of being that boy.
In fact, the real 'fanner'is Adem Zengin, who worked at FETÖ
schools in Kazakhstan for 20 years before being appointed to one
in Africa. He was caught in Balıkesir and Sönmez was released
from custody.
Snapshot of Gülen at his Penn. office on 15 July 2016..