türkçe
links to original Turkish article
(Hürriyet Newspaper, 23 September 2016)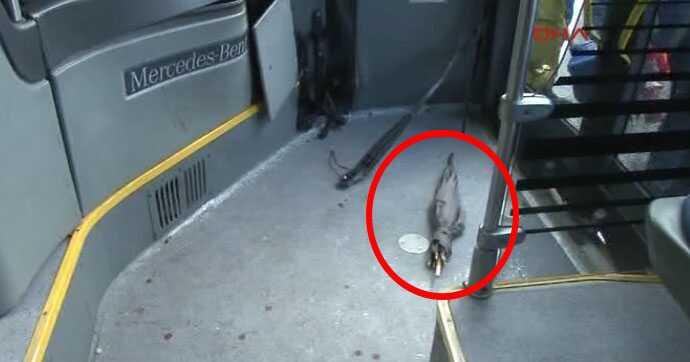 Assault with a deadly umbrella.
mustseetv scroll down a bit and check out one amazing video.
The accident involving a metrobus on the Acıbadem-Kadıköy
route in Istanbul yesterday that resulted in 11 injuries was caused
by an irate commuter who attacked the driver with an umbrella.
The bus, diven by Recai Türkoğlu, jumped from its lane and
struck two other vehicles before being stopped by a double-decker
bus. The umbrella-wielding attacker, Murat A., was taken into
custody by the police. Traffic was backed up for hours all the way
to the 15 July Martyrs Bridge.
Murat A.'s evil role model.
A passenger in another metrobus who saw the crash related that "they said
that someone in the metrobus attacked the driver, whose nose was bleeding.
We rescued 3 or 4 people. Fortunately, no one died. I was in a following
metrobus. All of a sudden the metrobus in front took to the air. We tried to
help as best we could."
What one umbrella has wrought.