//From Wikipedia//
His bloodlines are blowing in the wind.
Bob Dylan was born Robert Allen Zimmerman (
Hebrew
name
שבתאי זיסל בן אברהם
[Shabtai Zisl ben Avraham])
in St Mary's
Hospital on May 24, 1941, in
Duluth, Minnesota
,
and raised
in
Hibbing, Minnesota
, on the
Mesabi Range
west of
Lake Superior
.
He has a younger brother, David. Dylan's paternal grandparents,
Zigman and Anna Zimmerman, emigrated from
Odessa
, in the
Russian Empire
(now Ukraine), to the United States following the
anti-Semitic
pogroms of 1905
.
His maternal grandparents, Ben
and Florence Stone, were
Lithuanian Jews
who arrived in the United
States in 1902.
In his autobiography,
Chronicles: Volume One
,
Dylan wrote that his paternal grandmother's maiden name was
Kirghiz
and her family originated from
Kağızman
district of
Kars Province
in
northeastern Turkey.
Kars province
---------------------------------------------------------------------------------
türkçe
links to original Turkish article
(Milliyet Newspaper, 14 October 2016)
Cool 'Obama' gets the better of randy opponent 'Trump'
battle of the bulls
see all the action here!
Şefik Pisikoğlu lives in Akbucak village of Pazar district in
Rize province. His bull was born in the year that Barack
Obama became the U.S. president and because of the bull's
dark colar Pisikoğlu named him 'Obama'.
'Obama' and another bull came head to head on a narrow
road and as Pisikoğlu recorded the battle, onlookers worried
that problems would arise. Pisikoğlu, though, assured them
that nothing untoward would happen. Nevertheless, 'Obama'
pushed his opponent down into a gully and the animal was
able to get back onto the road only with great difficulty.
Pisikoğlu commented as follows: "I said nothing would happen
but it did. The bull should have been more careful (!) but he
didn't see the drop and fell into it. The video was a big hit on
social media. Everyone is saying what a cool customer I am.
I'm usually calm. I never get excited."
Rize province
-----------------------------------------------------------------------------
türkçe
links to original Turkish article
(Milliyet Newspaper, 14 October 2016)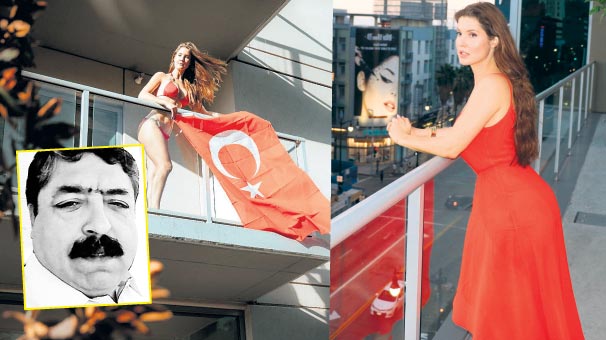 We, of course, wish the happy couple all the best.
Correspondence between social media phenomenon Amanda
Cerny and 'Yozgat Uncle' Cemal Lalek has resulted in Amanda
heading for Turkey. Her interest in Turkey began when Lalek,
seeing Amanda's bikini photo, wrote to her, saying "if you come
to Yozgat I can show you around."
Amanda responded and immediately the number of her Turkish
followers increased. She next shared the location of Yozgat and
with a ring in her hand, proposed marriage to a Turkish Snapshot
user (Lalek?), earning her the nickname 'yeni yenge' (uncle's new
wife).
Amanda posted a photo of herself on her balcony with a Turkish
flag and wrote "I've got a ticket to Europe...I'm going tomorrow
to see my people!!!" Amanda has 8.5 million followers on Instagram,
4 million on YouTube, 3.5 million on Facebook and 600,000 on
Twitter. She earns 500,000 USD per year on YouTube (!!!).
Where's Yozgat?