türkçe
links to original Turkish article
(HaberTürk Newspaper, 11 October 2016)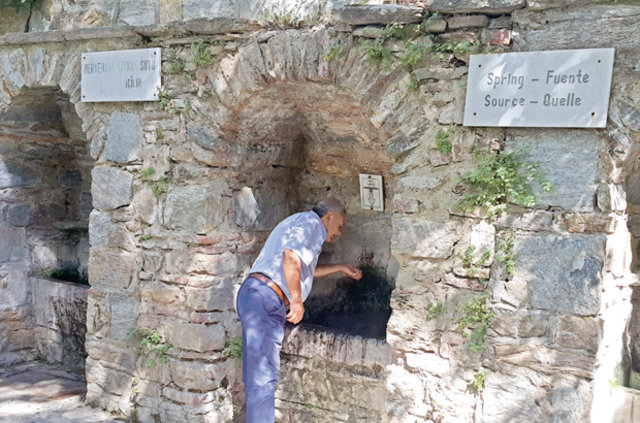 "If I take a sip, I'll probably win the lottery tomorrow."
The water that flows from the slopes of Bülbül Mountain, where
Meryem Ana Evi (home of the Virgin Mary) is situated in Selçuk
district of Izmir, has become a source of income for some sharp
characters. Initially, in 2012, this water was taken from a spring,
packaged with the logo of the Acarlar Village Agricultural
Development Cooperative and sold to tourists in places like Sirince,
Selçuk and Antalya.
Three months after the cooperative was shut down, some firms
continued to sell the water, but this time with a photo of 'Meryem
Ana' (the Blessed Virgin Mary) on the bottles. The 'new' water
was packaged with the name 'Panaya Kapulu' (Doorway to the Virgin)
and 'Meryem Evi Suyu' (Water of Mary's House) written on the label.
The water was sold as a gift in some stores as 'sacred water' and, in fact,
some stores told visitors that the Pope had blessed the water. These
bottles with 50-100 milliliters of water were sold for between 7 and 20
TL (2.50 - 5 USD). Some other stores began to sell bark and leaves
from the trees in the area of 'Meryem Ana Evi' for between 20 and
100 TL (!).
A long way from Bethlehem...
Noel Micaleff, the head of the Meryem Ana Association, noted that
"just like the water isn't sacred, it cannot be blessed and made so either.
The water that comes from Bülbül Mountain just comes from the
springs there. No one should be giving anyone any money for water
and tree bark."
Ramazan İğneci, the village chief of Acarlar village, explained
that "we bottled the water from Bülbül Mountain to help the
economic situation of our village. We did this for two months but
when it didn't sell well we stopped. The water we bottled is no
different from the spring water. We sold it to visitors as a memento.
We had packaged the water as Meryem Ana water but today it's
being sold as 'sacred water'."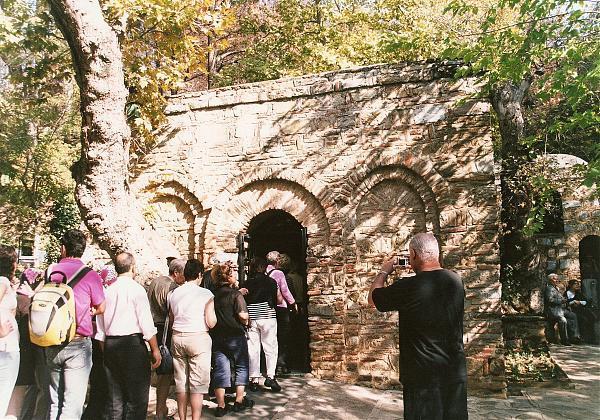 Plenty of 'holy water' for everyone, so don't cut in line!
Each year thousands of tourists come to Meryem Ana Evi, which
is on Bülbül Mountain, 9 kilometers from Selçuk. Legend has it
that the Virgin Mary lived out her final years here and was buried
close by. The Virgin Mary is considered to be sacred according
to Christian beliefs and each year tens of thousands of Catholics
make the pilgrimage to Meryem Ana Evi.