turkce
links to original Turkish article
(Sabah Newspaper, 4 April 2014)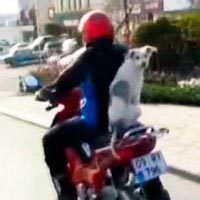 What? You can't do this?
People who saw a dog riding on a motorcycle in
Bodrum, Mugla province, were amazed. Someone
took a picture with their cellphone, at the Gumbet
intersection on Kibris Sehitleri Boulevard, of the
dog riding in back of the driver.
Holding on to nothing at all, the dog looked around
at the scenery as the motorcycle sped away from
the photographer. The canine's upright position was
quite interesting.