turkce
links to original Turkish article
(Sabah Newspaper, 18 April 2014)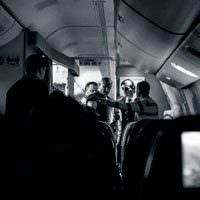 Looks like a scene from a bad (is there any other kind? -
yes, 'Raising Arizona')
Nick Cage movie.
A Pakistani-American who was travelling on a Turkish Airlines
(THY) flight from Istanbul to New York on Tuesday, 15 April,
got into a fight with two people he accused of stealing his laptop
computer.
The passenger, named Shahbaz Khan, spat in the faces of the
two people he accused of the computer theft and attacked the
three cabin crew members who tried to calm him down.
Ultimately, Khan was handcuffed and bound to his seat by
the crew and other passengers.
Khan had to endure the rest of the flight in this condition before
being taken into custody by security personnel when the plane
landed at JFK Airport in New York. He was released after
posting $25,000 bail and with the condition that he not consume
alcohol on future flights.
One of the other passengers on the plane, Ryan Loco (!), shared
a black and white photo he took during the disturbance on his
Twitter page, along with the following comment: "I woke up to a
drunken guy fighting with everyone on the plane at 9,000 meters
over the Atlantic."