turkce
links to original Turkish article
(Sabah Newspaper, 8 April 2014)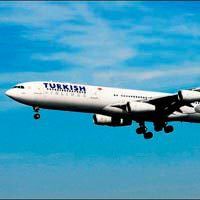 Who's flying you today?
Two years ago Turkish Airlines (THY) pilot Yavuz O. made a
name for himself when he safely landed a plane after its
landing gear failed to retract following take-off from Istanbul.
The flight was bound for Washington D.C. But last Friday he
entered an office in Atakoy, Istanbul, and took two people
hostage at gunpoint, claiming that he was being followed by
Mossad agents. Yavuz O. was eventually persuaded to surrender
by a police chief.
Upon entering the real estate office last Friday at the Atrium
shopping center, Yavuz O. took out a gun and pointed it at
two people behind their desks. Asserting that "Mossad agents
are following me!", Yavuz O. took the two people hostage
and kept on talking about 'agents'.
Police were summoned and arrived at the scene, led by Bakirkoy
Police Chief Murat Cetiner, who became famous while serving in
Sirnak province (far southeastern Turkey), where HDP (a Kurdish
party) Parliamentarian Sebahat Tuncel slapped him in the face.
Cetiner, who has had hostage incident training, spoke with Yavuz
O. for 20 minutes, persuaded him to surrender and took his
licensed revolver from him. After giving a statement, Yavuz O.
was sent to Bakirkoy Mental Hospital on suspicion of schizophrenia.
Yavuz O. is still an active-duty THY pilot and had and has scheduled
fligh duty in March, April and May. In fact, he was due to fly the
day of the incident.
==============
the rest of the story
=====================
turkce
links to original Turkish article
(Sabah Newspaper, 9 April 2014)
Tayfur Gokhan, into whose real estate office his friend Yavuz O.
entered with a gun last Friday, explained what happened to Sabah.
Gokhan said that he was sitting alone in his office when Yavuz O.
came in:
"He gave me a paper with license plate numbers and names
written on it and said 'the CIA is following me. Put this information in
the safe. I'll come and get it later.' Then he took out the gun from his
waste and put a bullet in his mouth. That's when I realized something
weird was happening. Two people were passing by the office and Yavuz
summoned them, calling them 'agents'. I sent all my fellow store owners
a message asking for help. I talked with him until the police came. A
tragedy was averted because I'm cool-headed."