turkce
links to original Turkish article
(Sabah Newspaper, 15 April 2014)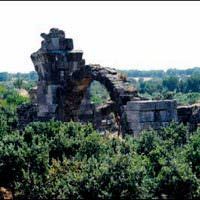 A bath of imperial proportions.
A bath from Roman times in the Alexandria Troas antique
city in Canakkale is catching attention as the largest structure
of the period in Anatolia. Athenian Herodes Atticus, a close
friend of Emperor Hadrian, built the bath 1,880 years ago.
The head of the site's excavation committee, Dr. Erhan Oztepe,
said about the bath, which is 100 meters in length: "the number of
known baths of this size or number can be counted on one hand.
As far as we know from sources, the bath cost around 3 million
drachma (Greek money). That was a lot of money in those days."
=======================================
turkce
links to original Turkish article
(Sabah Newspaper, 13 April 2014)
In the days before email...
A 587 year-old edict signed by Sultan Murad II was
put up for sale by Christie's Auction House in London on
10 April, at the behest of Oxford University. The edict
was purchased by antique collectors Omer Dincer Kilic
and Feyyaz Ozay for 160,000 pounds.
The edict, which is five meters in length (!), is a deed of
trust concerning properties donated by Yurguc Pasa for
charities for the poor in Amasya. The edict is in six
sections joined together and is dated 3 Rabi'ulevvel 830
in the Muslim calendar (2 January 1427).
Yurguc Pasa, the son of Abdullah Efendi, the last tutor
of Sultan Mehmed I., was the person who, in 1428, had
a mosque built within the mausoleum in Amasya that still
bears his name.