turkce
links to original Turkish article
(Hurriyet Newspaper, 20 January 2015)
Early exit to the locker room, with an escort.
In Igdir, Abdulriza Dag (36) was involved in a fight in 2005,
was tried for wrongful death and sentenced to 6 years 3 months
in prison. Two years after he went to jail, though, Dag managed
to escape.
The Gendarmerie got word that Dag would be playing in a
soccer match in Erhaci village so some of the soldiers dressed
in sports clothes and waited on the sidelines. As soon as Dag took
the field at the friendly match between Lower Erhaci and Upper
Erhaci villages, he was taken into custody by the Gendarmerie.
Upper and Lower Erhaci villages are just south of Igdir city.
============================================
turkce
links to original Turkish article
(Sabah Newspaper, 20 January 2015)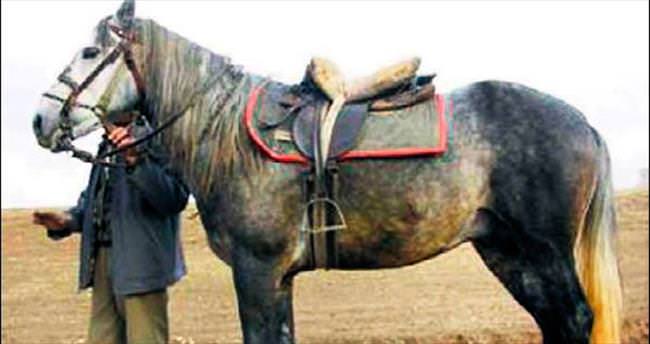 Short on legs, long on speed.
The Turkish Traditional Sports Branches Federation is searching
villages, districts and towns to find the Hinis "Short Leg" horse.
The horse's forelegs are shorter than the back legs, allowing this
horse to run faster than others.
Federation President Prof. Dr. Alparslan Ceylan said that "we're
looking for this breed of horse but so far we haven't found any.
We've formed a research team that is looking in Iran, Georgia,
Azerbaijan and Ukraine for these horses. Perhaps they were taken
abroad from this region may years ago. 'Cirit' (sort of like jousting)
was played only with these horses. In their place, Arab and English
horses have been used. We're looking everywhere so that the "Short
Leg" Hinis horse can reclaim its rightful place."
President Ceylan added that people who have horses like this stand
to make a bundle of money: "There are some businessmen who love
'cirit' and are ready to pay big money to someone who finds this
horse.' The 15-person team looking for the breed includes Prof. Dr.
Ziya Gokalp Ceylan, chief of Ataturk University's Food Hygiene
and Technology faculty, researchers, horse traders and people
characterized as "cambaz" (can mean acrobat, horse dealer,
swindler (!)).
Hinis district is southernmost of Erzurum's districts.