türkçe
links to original Turkish article
(HaberTürk Newspaper, 13 September 2015)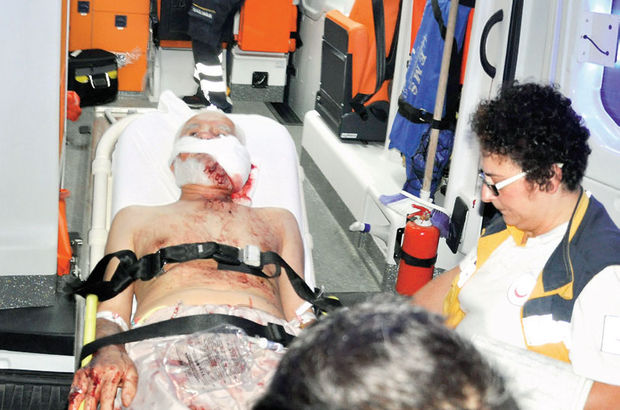 Long, long ago, mom said don't discuss religion and politics!
In Karacabey district of Bursa, a political discussion between
three retirees turned into a knife fight. The incident occurred,
at a coffeehouse in the Yenice neighborhood. Nuri K. (77),
Yakup Ö. (78) and veysel G. (76) resumed a discussion that
had previously been tense. All of a sudden, the atmosphere
intensified and Nuri K. stabbed Yakup Ö. and Veysel G. with
his knife.
As the two elderly men bled, police were called. The two were
brought to Karacabey State Hospital and Nuri K., who fled,
was apprehended shortly afterwards. The wounds in the two
victims were serious enough to require their transfer to Uludağ
University Hospital.
------------------------------------------------------------------------
türkçe
links to original Turkish article
(HaberTürk Newspaper, 13 September 2015)
Mostly they just make honey but sometimes they mis-Bee-have.
Yesterday at about 3 p.m. on the Muğla-Marmaris highway the
brakes failed on a truck filled with bee hives driven by Mehmet
Yakut (27) at the Sakar Tepe location. When the truck rolled
over, 400 hives fell out and about 1,200,000 bees were released
into the surrounding area.
The crazed bees stung driver Yakut and his passenger Mustafa
Canyurt in various places, wounding them seriously. Passing
cars and their passengers were also victimized by the bees.
Emergency responders donned special suits to deal with the
creatures and traffic was paralyzed for about two hours.
More health responders were brought to the scene as complaints
of bee stings increased and a member of the Muğla Bee Keepers
Association came to put the load the hives back onto the truck.
A similar incident occured at the same spot on September 2010
when another truck loaded with hives flipped over. One person
died in that incident.
Sakar Tepe is near Gökova, mid-way between Muğla and
Marmaris.