türkçe
links to original Turkish article
(HaberTürk Newspaper, 12 September 2015)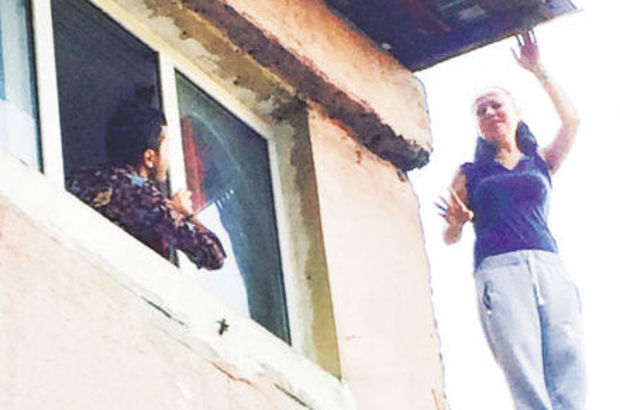 Listening to too much Beatles and Joe Cocker, no doubt.
joe cocker version
the unintended consquences of anything.
In Beyoğlu, Istanbul, a married waiter brought a woman to
his house for a one-night-stand but towards morning the
woman climbed out on the roof through the bathroom window
and threatened suicide. The waiter has disappeared.
The incident occured at 7 in the morning yesterday on Beyaz
Yasemin Sokak in the Kalyoncu Kulluğu neighborhood of
Beyoğlu. The waiter, Ali Ü. who works at a fish restaurant,
headed home after work but, taking advantage of his wife's
absence, he brought Ünzile Ç., whom he met on the street,
home with him.
But when Ali Ü. went to the grocery store in the morning,
Ünzile Ç. climbed out on the roof next door through the
bathroom window. Neighbors heard the cries of Ünzile Ç.,
who regretted her night's experience, lamenting that "I made
a mistake!" Firefighters arrived at the scene and spread a
tent out beneath Ünzile Ç. Meanwhile police tried to talk her
down.
As Ünzile Ç. demanded to talk to her brother, the neighbors
called Ali Ü.'s wife to say "the woman your husband brought
home is threatening suicide. Come quickly!" The wife then
tried to reach Ali Ü. but he neither answered the phone nor
returned home.
After two hours on the roof, Ünzile Ç.'s brother Hasan Ç.
arrived and prevented his older sister from jumping at the
last second. While Ünzile Ç. was contemplating her leap,
an elderly woman resident called to her saying "don't break
the roof tiles! Be careful!", drawing chuckles from the crowd
of onlookers.
Beyoğlu district, Istanbul