türkçe
links to original Turkish article
(HaberTürk Newspaper, 27 September 2015)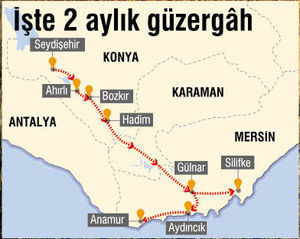 The Sarakeçilis' two-month trek from Konya to Mersin.
The Sarakeçili nomads continue the one thousand-year
nomadic culture in Anatolia without tiring of it. HaberTürk
witnessed the winter trek of the nomads from their pastures
in Konya to their winter quarters in Mersin over three days.
There are today 287 Sarıkeçili families in Burdur, Mersin,
Konya, Karaman, Antalya, Adana, Osmaniye, Izmir, Aydın
and Denizli provinces. Despite all obstacles,15 of these families,
who tended their flocks in Konya's Hadim, Bozkır, Seydişehir
and Ahırlı districts over the summer, have once again headed
to the coastal districts of Gülnar, Silifke and Aydıncık in Mersin.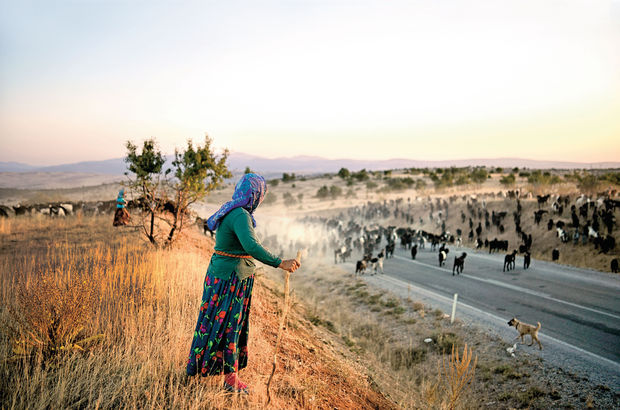 They don't post this on Facebook.
The Sarıkeçili nomads trek about 1,200 kilometers over four
months out of each year, spend three summer months in the
pastures in Konya, and 5 months in their coastal encampments.
Starting out from Gölbelen Yaylası (summer pasture) at an
elevation of 2,300 meters in Konya's Hadim district, the 7-person
Atar family is trekking to Anamur in Mersin now, following
Kurban Bayramı.
The Atar's lives in a 5-meter tent, made of goat hair, that is both
waterproof and fireproof, and which will last for 20 years. The
family is bringing its 200 goats to Mersin for the winter.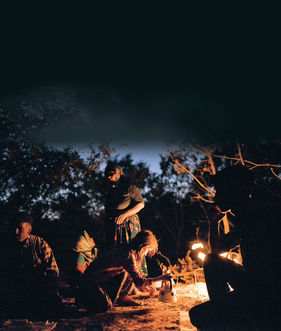 Nomadic life on the road.