türkçe
links to original Turkish article
(HaberTürk Newspaper, 8 September 2015)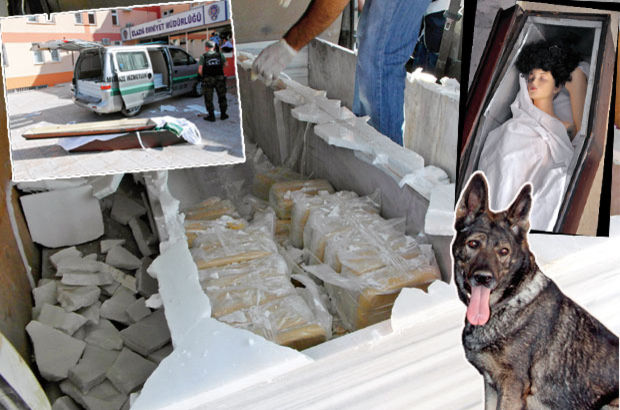 'Biksi' gets some gourmet Alpo for this one.
(BTW, manequin bears an uncanny likeness to 'Elaine')
A funeral vehicle stopped by police in Elazığ with the words
'Özel Samsun Cenaze Aracı' (Private Samsun Funeral Vehicle)
written on it, was being driven by Y.F. (40) and M.K. (45), from
Van to Istanbul. They showed police a burial document and said
they were transporting bodies.
The police looked inside the vehicle and saw that there was a
coffin on a marble base. The coffin caught the attention of
'Biksi', the police sniffer dog, and when police opened the coffin
they found a manequin wrapped in a funereal blanket.
Under the coffin in the marble base police found 401 half-kilo
packets of heroin. Y.F. and M.K. were taken into custody.
Elazığ province
---------------------------------------------------------------------
türkçe
links to original Turkish article
(Hürriyet Newspaper, 8 September 2015)
Cruel fate: electrocuted victim studied electronics at school.
Muhammet Sekmen (21) of Antalya went to a gas station on
Sakarya Boulevard with his brother and two friends the evening
before last. Sekmen drenched his car with pressurized water and
suds. He then put one lira in the machine and pressed the 'start'
button to begin the automatic wash.
At this point, though, Sekmen was caught by the electrical
current. Seeing this, his friend Hüseyin Memiş tried to pull him
free but Memiş, too, was electrified. The machine was turned off
and the rescue team found that Sekmen, a graduate of the electric
and electronic department of a professional school, had been
fatally electrocuted.
Antalya province