türkçe
links to original Turkish article
(HaberTürk Newspaper, 17 June 2016)
...the resemblance is uncanny.
Swede Pixee Fox became so infatuated with the cartoon character
'Jessica Rabbit' that she changed her eye coloar and had six ribs
removed. Fox, whose nickname is 'Barbie Baby' has come to Turkey
for a 'spider web' (face lift) aesthetic operation.
Arriving at Ataturk Airport from Stockholm, Fox (25) quickly became
a subject of interest. She responded to reporters' questions by saying
that "I'm going to get the spider web treatment. I think it will be a
successful operation. Up to now I've undergone 17 aesthetic operations.
This will be the 18th." Fox has spent 120,000 USD on the operations.
Just a sweet country girl with a bit of an identity crisis.
--------------------------------------------------------------------------------
türkçe
links to original Turkish article
(HaberTürk Newspaper, 17 June 2016)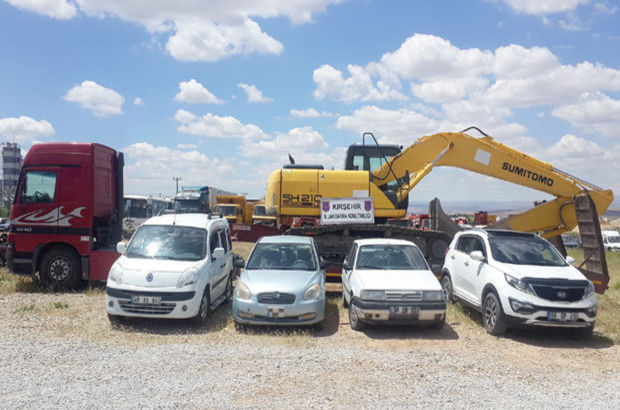 All together by coincidence...figure the odds.
In Ulupınar village of Kırşehir, the Gendarmerie got a tip about
an illegal excavation at a 1st degree (protected) site of a 'höyük'
(ancient mound), where a surface excavation has already been done
by the Japanese. The night before last a Gendarmerie operation
was conducted and a town mayor, a local official, a retired soldier,
an imam and a prison guard were among the 14 people taken into
custody.
The Gendarmerie found 50 kilograms of sodium carbonate, a
frequency-measuring oscilloscope device, a tractor-trailor, a back-hoe,
a bulldozer, a small truck, 4 cars and excavation equipment at the
scene. Former soldier İ.M. and official Ö. Y. were arrested and the
others were released, pending trial.
In their statement to the Gendarmerie all 14 suspects claimed that
they all met at the site by chance (!) and had not come for an excavation.
Mayor Davut Çalışkan of Bağlıkaya town in Aksaray province
explained that "I came there late and the Gendarmerie asked for my
ID card. There was an argument and they took me into custody. I
don't have any connection to an excavation."
Kırşehir province
----------------------------------------------------------------------------------
türkçe
links to original Turkish article
(HaberTürk Newspaper, 17 June 2016)
One suspects the Count would feel right at home here.
During the ongoing restoration work at the Tokat Fortress, where it
is claimed Count Dracula was held prisoner, areas resembling caves
and 'rooms' on either side of the 'Deer Path' at the 100 meter mark
have been encountered
.
Visitors receive a free sample.
The work is being overseen by three archeologists and ration cups,
a military shelter, a secret passage that appears to lead to the Pervane
Bath in the city center, and two dungeons have been discovered.
Tokat's Provincial Culture and Tourism Director Abdurrahman
Akyüz noted that "the secret passage descends at a 45 degree angle.
We're removing the fill inside using a rail system that leads to the
nearby mine."
Tokat province