türkçe
links to original Turkish article
(Sözcü Newspaper, 24 November 2016)
Acrobatics to soothe his acrophobia.
In Bursa, high school senior Emir Korkmaz (18) performs acrobatic
stunts that testify to his surname (Korkmaz means 'fearless' in Turkish).
Korkmaz climbs tall buildings and bridges to show off his acrobatic
prowess.
Enjoying a stroll on the bridge in Istanbul.
Previously, Korkmaz walked on the Golden Horn Bridge in Istanbul
on his hands and climbed a 100-meter crane to do the same thing.
He's become a phenomenon on social media and admits that "the
stunts I do are dangerous." (!)
Everybody needs a hobby.
------------------------------------------------------------------------------
türkçe
links to original Turkish article
(Milliyet Newspaper, 21 November 2016)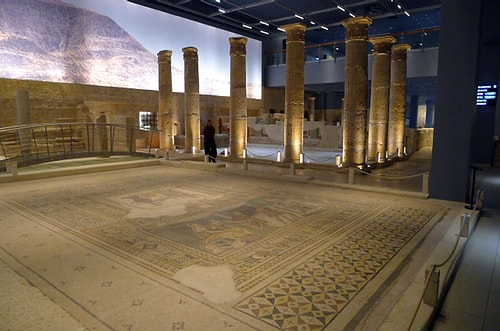 Current site of "Gypsy Girl" at Zeugma museam in Gaziantep.
The border pieces of the Maenad Mosaic (Gypsy Girl), which is
the most precious holding of ancient Zeugma in the world's
second biggest mosaic museum in Gaziantep, dating from the
second century A.D., emerged in the U.S. in 2012. The Culture
and Tourism Ministry has determined that the mosaic pieces
are being displayed in the Wolfe Art Gallery of Bowling Green
State University in the state of Ohio. (!)
Mosaic parts on display at Bowling Green U. in Ohio.
The Ministry has contacted the university in this regard and sent
a scientific report confirming that the mosaics belong to Turkey.
The university, though, viewed the report as "insufficient" and
requested a document that proves that the mosaics were removed
from Turkey illegally.
After a four year battle with the university, the Ministry has
asked the Turkish Foreign Ministry to contact UNESCO for
the return of the art works.
Gypsy Girl
The Gypsy Girl mosaic was on the dining room floor of the
Maenad Villa. It measures 78 x 52 centimeters and depicts
a woman looking to her right. The woman's fluffy hair is
parted down the middle and there is a scarf around her neck.
She is wearing hoop earrings, which is why the woman was
called gypsy girl when the mosaic was first found. The mosaic
floor was pillaged by treasure hunters to a large extent.
Also on display at BGSU.