türkçe
links to original Turkish article
(Yeni Şafak Newspaper, 29 November 2016)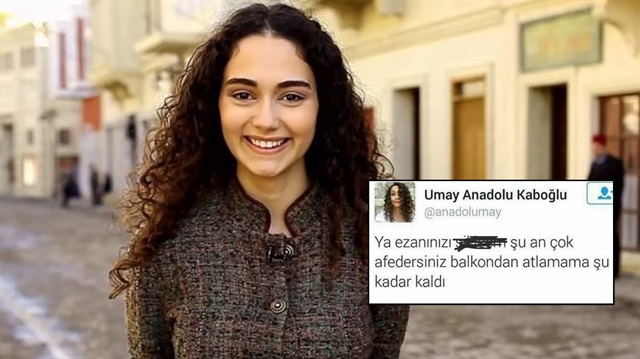 "Hey, ?+%& your call to prayer. It's making me think about
jumping off the balcony." (a bit too loud for Umay hanım)
Umay Anadolu Kaboğlu posted a message on social media on
the night of 15 July as the coup was taking place. Kaboğlu's
post was critical of the ezan (call to prayer) eminating from a
mosque near her and her message contained a curse word.
The public prosecutor on the Anatolian side of Istanbul started
an investigation. In the subsequent indictment Kaboğlu claimed
that she did not issue the 'tweet' in question, that she did issue
her last tweet at about 11 PM criticizing the coup-plotters, and
that her Twitter account may have been stolen during the night.
However, the prosecutor stressed that although the suspect
claimed to have not issued the offending tweet, on the date of
the alleged crime and afterwards she used her Twitter account.
Consequently, the suspect's defense should be considered an
attempt at saving herself and in the indictment the opinion
was reached that her defense was without merit.
The indictment stated that Kaboğlu should be tried for the
crime of "publicly denigrating a religion that a portion of
the populace adheres to." A sentence of from 6 months to
one year in jail was requested. In the event that the court
accepts the indictment Kaboğlu's trial will begin.
Calls from mosques rallied the public to resist the coup on
15 July.
----------------------------------------------------------------------------
türkçe
links to original Turkish article
(Milliyet Newspaper, 30 November 2016)
Public prosecutor with time to kill finds a target.
Güneş Erzurumluoğlu (20) was seriously injured when a piece
of shrapnel hit her neck during an explosion in Suruç district of
Şanlıurfa province. She has been in a wheelchair ever since.
Believing that no treatment was available for her in Turkey,
Güneş hanım started a campaign on social media so she could
go to a clinic in Basel, Switzerland.
However, the Kocaeli public prosecutor fined Güneş hanım
1,103 TL (about 300 USD) for acting contrary to the Aid
Gathering Law and based on article 36 of the misdemeanor law.
Güneş hanım explained that "people wanting to help asked for
an account number so we started a campaign on the internet.
When friends told us we had to get permission we stopped the
campaign and submitted the proper documents to the governor's
office."
"We submitted a document from 10 professors testifying that
I am 98% handicapped and will need lifelong treatment. The
governor's office, though, considered this insufficient. They
said that a letter had come to them from the police saying that
we were collecting money for an illegal organization."
Güneş hanım added that the aid campaign is continuing on an
international website. "People are helping through that site.
We have filed an objection to the (1,103 TL) fine and the legal
process is ongoing."
Suruç is hard by ISISistan.