türkçe
links to original Turkish article
(HaberTürk Newspaper, 19 July 2017)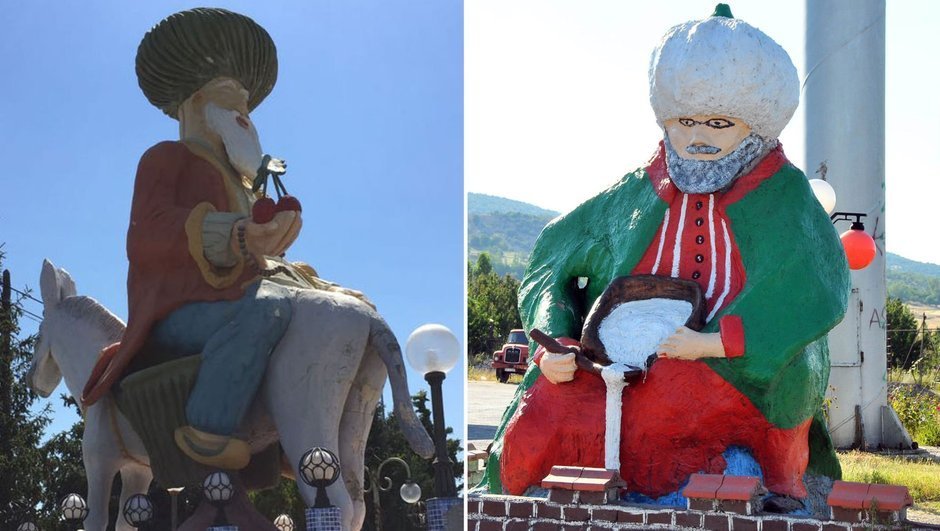 Truth be told, he has looked better.
Statues of Nasreddin Hoja at a rest-stop on the Konya-Afyonkarahisar
highway have sparked a negative reaction on social media. As a result,
Salih Akkaya, the mayor of Akşehir, has announced that his city will
obtain patent rights to Nasreddin Hoja's name and image in order to
prevent their use without permission.
Mayor Akkaya said yesterday that he had visited 4 rest-stops together
with members of a special commission formed by Akşehir city on the
matter and warned the rest-stop owners about the statues. Akkaya said
that "we told the rest-stop owners that we would take action against
the unflattering images of Nasreddin Hoca and we asked for their help
on this issue. They agreed. We will begin our efforts in Akşehir and
then focus on Konya and Turkey in general."
Nasreddin Hoja shown in his best light.
However, Hamid Yüzgüllü, the mayor of Sivrihisar in Eskişehir
province, took exception to Mayor Akkaya's patent announcement,
saying "you can't get a patent for personalities that the world essentially
owns. There's no precedent for such a thing. We are working with the
Culture and Tourism Ministry with regard to Nasreddin Hoja's image
and personality. It has been scientifically proven that Nasreddin Hoja
was from Sivrihisar, where he was born and died. Noone can get a
patent on Nasreddin Hoja!"
Akşehir is midway between Afyonkarahisar (not shown but NW
of Akşehir) and
Konya. Sivrihisar is almost directly north of
Akşehir.