türkçe
links to original Turkish article
(Milliyet Newspaper, 21 July 2017)
There's something about a train...
Ardahan's Çıldır district has seen a train for the first time, as the
Baku-Tblisi-Kars railroad began operations the day before
yesterday. Those learning that a train would pass through the
the borders of Ardahan for the first time rushed to Karakale
village in Çıldır.
Dotted portion between Akhalkalaki in Georgia and Kars
was
opened for business the day before yesterday.
Cars and tractors lined up along the train tracks and the Çıldır
residents applauded as the train passed through Karakale with
its horn tooting. Transportation Minister Ahmet Arslan got off
the train to accept congratulations from the crowd.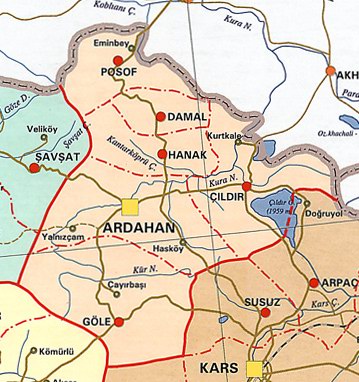 Çıldır district is in eastern Ardahan province
.