turkce
links to original Turkish article
(Hurriyet Newspaper, 10 September 2014)
The vaporous 'Meral Duman'
S.G., who lives in Igdir (on Turkey's border with Armenia),
accepted a friend request on Facebook about two weeks ago
from a woman who identified herself as 'Meral Duman'
('duman' means 'smoke' in Turkish), supposedly a widowed
mother of one child. 'Meral Duman' wrote to S.G. that she
had 280,000 Swiss Franks that she couldn't convert by herself.
She asked S.G. to help in this regard and promised half of
the money to S.G.
After accepting the proposition, S.G. travelled to Seydiler
village in Tefenni district of Burdur province (about 1,000
kilometers away!) and gave 4,000 TL (about $2K) to an
individual who identified himself as the son of 'Meral
Duman''s aunt. Based on telephonic istructions from 'Meral
Duman', S.G. then went to Isparta but could not contact
'Meral Duman' any further. S.G. realized at this point that
the fraud had occurred and filed a complaint with police.
Igdir is on the Armenian border, Burdur is in SW Turkey.
==========================================
turkce
links to original Turkish article
(Sabah Newspaper, 10 September 2014)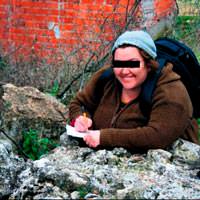 Ilknur S. translating success into failure.
There was a copying scandal that occurred during the Foreign
Language Exam (YDS) conducted by OSYM (Turkish testing
authority) in Ankara on Sunday. Based on a tip, Ankara police
were able to nab the cheating gang.
Ilknur S., who owns a learning center, Cagri S., an academician
at Gazi University, and Ramazan C from Baskent University,
came up with a plan to help 3 of their learning center students
pass the YDS. According to the plan, students Altug A., Hakan
U. and Mustafa K. hid telephones in their underwear and put
Bluetooth devices in their ears. The three then entered the
exam hall.
Earlier in the morning, Ilknur S. had been able to obtain the
exam questions and subsequently provided the three students
with the correct answers via Bluetooth. Speaking by code,
Ilknur told the students to "cough if you don't understand"
and provided help such as "the question beginning with 'Do
you...' requires the answer B." All six suspects were brought
before a court and released pending trial.