turkce
links to original Turkish article
(Sabah Newspaper, 4 September 2014)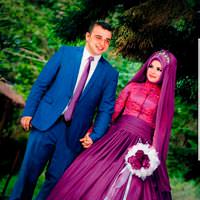 Happiest day turns out to be his last
.
Four years ago in Of district of Trabzon province Serkan Ihtiyar
(26) crashed his car into his relative Ozkan Ihtiyar (31) while Ozkan
was crossing the street. As the result of the accident, Ozkan died
and Serkan was arrested for driving without a license. A short time
later Serkan was released. Ozkan's younger brother Rasit (18)
swore revenge against Serkan, warning him that "I'll kill on your
happiest day."
The day before yesterday Serkan was married to Fatmanur
Marangoz in a wedding hall in Of. While the bride and groom
were dancing, Rasit appeared at the back door of the hall and
shot the groom five times. The ricochets hit invitees Yusuf
Ihtiyar, Ozgur Abdik and Ozcan Kurt, injuring them all.
As bride Fatmanur went into shock, the wounded were taken
to Of State Hospital. Groom Serkan died at Karadeniz
Technical University Farabi Hospital. Rasit fled and it was
later learned that his father killed his mother and is now in
prison (!).
Of is Trabzon's easternmost district on the Black Sea coast.
============================================
turkce
links to original Turkish article
(Haberturk Newspaper, 3 September 2014)
High Noon in Nazilli.
In Aydin's Nazilli district, Vedat Goz (18) killed Aytac Ot (31)
with a pump-action rifle as the result of an argument about motorcycle
noise on 23 July 2014. The fight between the two relatives escalated
when Goz struck Ot's father. Ot then beat his cousin Goz putting him
in the hospital. In revenge, Goz and S.Goz killed Ot with the rifle.
A police investigation resulted in the arrest of Goz near the Aydin Women's
Birth and Childhood Diseases Hospital. Vedat claimed that his older
brother S. Goz had no role in the murder and that he did not know S.
Goz's current whereabouts. When Vedat's father Celal Goz (65) visited
him at prison he (Celal) was attacked. The attack occurred yesterday at
1 PM in front of the Aydin E-Type Closed Prison in the Osman Yozgatli
neighborhood.
Bedri Ot (65) could not accept the death of his son Aytac and when he
learned that Vedat's relatives would be coming to visit him at the prison
he laid in ambush. While Celal Goz was sitting in a coffee house across
from the prison Bedri Ot sprayed the coffee house with bullets. In the
attack Celal Goz and coffee house patron Ziyaeddin Tayanc (54) were
wounded.
Police units were rushed to the scene but in the chaos Bedri Ot was
able to escape with his rifle. The wounded were taken to Aydin State
Hospital and Adnan Menderes University Hospital, respectively, and
both are in good condition. Additional police teams were sent to the
neighborhood to forestall an escalation. Police determined that Berdi
Ot had his daughter Emel O. carry his revolver to the scene and Emel
was taken into custody. Efforts to capture Bedri Ot and his weapon
are continuing.
Nazilli district is in northeastern Aydin province.