turkce
links to original Turkish article
(Sabah Newspaper, 5 September 2014)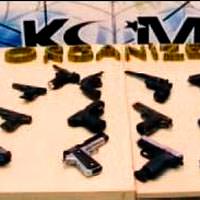 How about collecting stamps instead.
Teams from the Anti-Organized Crime Squad seized 18 weapons
during an operation in Eyup, Istanbul, and among them was a
Glock19 Austria revolver, known as an 'assassination gun'. Ismet B.,
the owner of the house where the weapons were found, was taken
into custody.
Based on a tip, police raided the house in Eyup and found the
following weapons:
3 Beretta
1 Colt
1 Browning
1 cz75
1 Parabellum
1 Smith wesson
1 Kont
1 French 10
1 Mauser
1 cz83
1 Sig Sauer
Also seized were 144 bullets. Home owner Ismet B. was arrested
on the charges of "gun law violation and weapons smuggling."
As the police investigation continued, another home owned by Ismet B.
was searched and there the 'assasination-type' Glock19 Austria
weapon was found. Ismet B.'s car was also searched and in it
5 additional guns - Colt, Faurique, Luger, Brownings, and Smith
Wesson - were discovered along with 1,085 bullets for these guns,
4 gun barrels and sundry weapons-related equipment and parts.
It has been learned that Ismet B. has a record for previous crimes
like "illegal weapons sales and possession of an unlicensed gun."
In the statement he gave to police, Ismet B claimed that he did
not sell the guns but only kept them in his home as a "hobby".
Ismet. B. was processed by police, brought before a court
and incarcerated.