turkce
links to original Turkish article
(Sabah Newspaper, 10 September 2014)
"Dig We Must!"...um on second thought...
It turns out that the reason one of Rize's main streets was closed
to traffic to search for treasure is a accident that happened 30
years ago. A citizen named Orhan Eskicirak (65) applied to the
city to have a treasure hunt excavation conducted on Ataturk
Boulevard, one of Rize's busiest thoroughfares. Eskicirak claimed
that there was treasure from the area's Greek period under the road
and without waisting any more time the street was torn up.
However, when the digging began, under the supervision of
various city agencies, a water pipe was hit, flooding the hole.
The approved 30-day excavation was stopped after just one day
and the hole covered up.
Orhan bey says "just a little deeper."
The story behind the incident has the ring of a film script. A
city worker 30 years ago fell into a mysterious well while
working on a canal along the road. The frightened worker
scrambled out of the well and covered it. After keeping the
incident secret all this time the worker broke his silence and
told his father about it last year.
According to the worker, the well was more like a room, with
gold items laden with jewels, statues and paintings. The father
explained all this to Eskicirak, who is a treasure hunting buff,
and an excited Eskicirak got the necessary permits to dig, Alas,
all for nought - except for a marble headstone. Eskicirak
lamented that "the storm drain was changed in 1994. It may
be that the gold was taken at that time. In short, we were left
empty handed."
Rize province.
===============================================
turkce
links to original Turkish article
(Sabah Newspaper, 10 September 2014)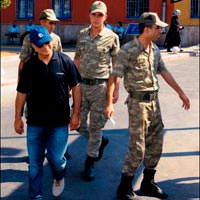 Major problems for "secret agent" Indiana Jonesoglu.
In Kahramanmaras, a retired army major who identified
himself and his 9 cohorts as members of MIT (Turkey's
National Intelligence Organization) were caught by the
Gendarmerie as they dug for treasure using construction
machines. The incident took place at Yedi Kuyular in
Dulkadiroglu district.
The day before yesterday, as Gendarmerie units were
conducting their rounds, they saw the digging activity
and confronted Umit G. Claiming to belong to MIT, Umit
G. explained that his team was conducting the excavation
on behalf of MIT and their activity could not be interfered
with.
The Gendarmerie requested excavation permits but when
Umit G. failed to produce them MIT was contacted. Soon
afterwards, two MIT agents arrived at the scene and said
that Umit G. had no ties to MIT. At this point, Umit G.
and his 9 cohorts were taken into custody.
The ensuing investigation revealed that Umit G., a retired
army major, is from Antalya and he and his group were
searching for graves from the ancient Germenica city.
Some of the diggers have previous "illegal excavation"
records. All concerned were brought before a judge and
released, pending trial.
Dulkadiroglu is in Kahramanmaras city.