turkce
links to related Turkish article
(Posta Newspaper, 25 September 2014)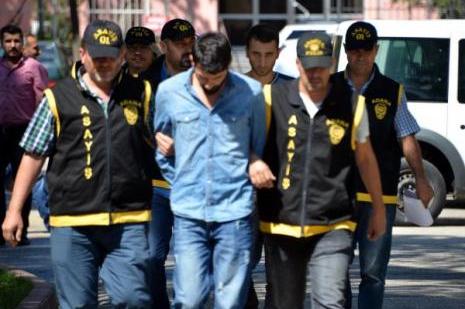 Bad idea:selling stolen goods on the internet.
In Seyhan district of Adana province, store owner Saffet Dogan
was walking along the street when he was mugged by B.M.E.(31)
and M.D. (29), who took Dogan to a building basement at
gunpoint. The suspects knocked out Dogan with the butt of a gun
and took his car keys, wallet and telephone.
The muggers later put an add on the internet to try to sell Dogan's
car. However, police saw the add and, posing as customers for the
car, arrested both of the suspects, one a bartender and the other
a university student.
Adana province.
=============================================
turkce
links to original Turkish article
(Sabah Newspaper, 25 September 2014)
Answer at your own risk.
Idris K., who lives in Istanbul, stormed the home of
Fatih K. (27) in Istanbul's Bagcilar Yuzyil neighborhood on the
morning of 13 March because of a disagreement between them
over a car sale. However, Fatih K. had moved from the address
five days earlier.
Idris K., unaware of Fatih K.'s move, rang the door bell with
his revolver cocked and ready to fire. The new renter, Mustafa
Simsek called from the window "who's there?", upon which
Idris K. shot him. Simsek, who had nothing whatsoever to
do with the matter, died at the scene. Police captured Idris K.
and Cetin T., who had rung the doorbell at Simsek's home.
Bagcilar district, Istanbul