türkçe
links to original Turkish article
(Milliyet Newspaper, 16 September 2017)
copycat
Angelina seemed to be mimicking MM.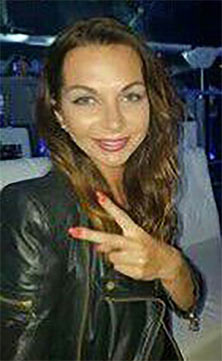 Can only hope her manicure survived the ordeal.
Officials at the Sarp border crossing in Artvin's Hopa district
witnessed a bizarre escape incident yesterday. Georgian citizen
Domenti Surmanidze (46) approached the crossing as a pedestrian
with a rather large suitcase, which drew the suspicion of the officials.
After Surmanidze passed through passport control he was followed
and told to open the suitcase, within which was a woman in a fetal
position (!). The woman, Russian citizen Angelina Samusenko (27)
had been involved in a traffic accident in Antalya. She was forbidden
from leaving Turkey until the case was resolved but tried to flee in
the suitcase instead.
"Hey buddy, your suitcase smells awful nice..."
After processing Surmanidze was expelled from Turkey, while an
investigation into Samusenko will continue.