türkçe
links to original Turkish article
(HaberTürk Newspaper, 15 September 2017)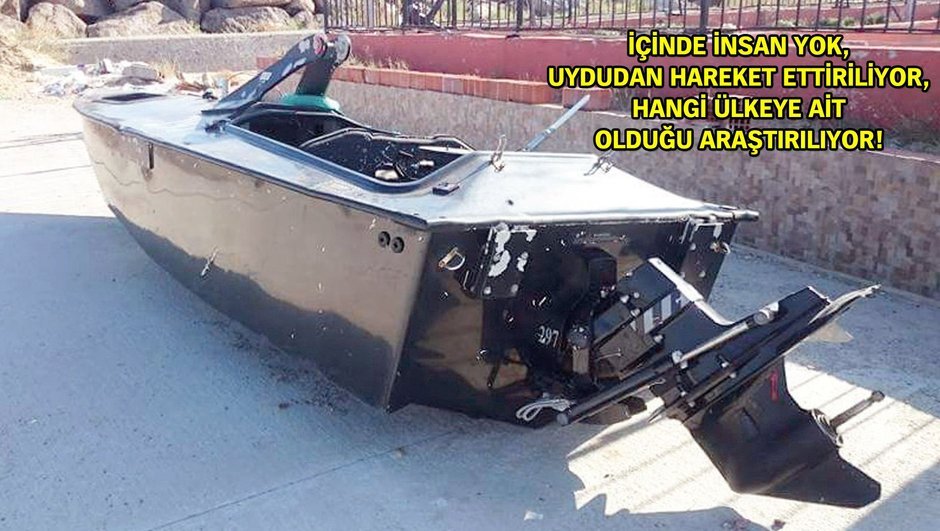 Hmmm, the plot sickens.
At the end of August, teams from the Çanakkale and Enez Coast Guard
Command noticed a boat near the Greek island of Semadirek, but in
Turkish territorial waters in the Gulf of Saros. The boat was unmanned
and driven by remote control.
Electronic systems were found on the boat that are used for private
communications and data collection. The antennas and satellite receiver
on the high-speed craft were in active mode. Normally, the boat would not
be detectable by radar but for some reason it stopped, allowing the Coast
Guard to spot it.
According to Turkish military sources: "The boat has a special configuration.
It is not possible to spot it with radar but it seems it broke down so we
noticed it. The craft is like an unmanned drone. It may be that EU countries
put the boat in our waters to track illegal migrants. The craft is now in the
possession of the Coast Guard and the matter is being pursued by the
public prosecutor in secret."
Experts opined that the boat may be an element of the EU's FRONTEX
program that monitors communications in the Mediterranean and Aegean
Seas to prevent illegal migration. Retired Admiral Mehmet Fatih Ilgar of
the Turkish Navy, though, said that "the items inside the boat have to be
looked at. If the equipment is for intelligence then it may be a spy boat.
If not then its mission may be tracking illegal migrants and human trafficking.
We, too, build craft that can avoid radar detection and some of our frigates
have this capability. EU countries can come into our territorial waters with
no problem so for them to use a boat like this doesn't seem logical."